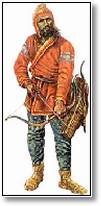 In about 512 B.C., as Darius I of Persia led his armies north of the Black Sea, the Scythians sent him a message comprised of a mouse, a frog, a bird, and five arrows. Darius summoned his captains. "Our victory is assured," he announced. "These arrows signify that the Scythians will lay down their arms; the mouse means the land of the Scythians will be surrendered to us; the frog means that their rivers and lakes will also be ours; and the Scythian army will fly like a bird from our forces."
But an adviser to Darius said, "The Scythians mean by these things that unless you turn into birds and fly away, or into frogs and hide in the waters, or into mice and burrow for safety in the ground, you will all be slain by the Scythian archers." Darius took counsel and decided that the second was the right interpretation, and beat a retreat!
Today in the Word, January 1992, p.22.
It does matter how you interpret scripture. There is the true interpretation of a passage, and then there are other interpretations which men assert to their own peril. We can know the truth, but we must set aside our own preconceptions, and let the word of God say what it says! "These were more fair-minded than those in Thessalonica, in that they received the word with all readiness, and searched the Scriptures daily to find out whether these things were so" (Acts 17:11).