Now these are the ones sown among thorns; they are the ones who hear the word, 19 "and the cares of this world, the deceitfulness of riches, and the desires for other things entering in choke the word, and it becomes unfruitful" (Mark 4:18-19).
Jesus revealed in his explanation of the Parable of the Sower that one of the real dangers threatening the faith of children of God is the inordinate desire for material things.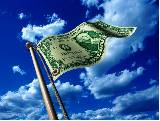 We certainly live in a rich society. Even families of the most modest means normally have such things as automobiles, homes, food, televisions, and now the ubiquitous cell phones.
Of course, none of these things, or the many toys, possessions and luxuries that many Christians enjoy are inherently sinful. They do, however, have a tendency to divert our attentions and priorities from that which is truly important.
I recognize that Billy Graham is not to be trusted doctrinally. However, I came across a quote from that Baptist preacher recently, that I believe to be germane to our study:
"We are rich in the things that perish, but poor in the things of the spirit. We are rich in gadgets, but poor in faith. We are rich in goods, but poor in grace. We are rich in know-how, but poor in character. We are rich in words, but poor in deeds. We say we are rich, but in God's estimate we are wretched, miserable, poor, blind, and naked."
Interestingly, Graham's quote came way back in 1963, and we have had an explosion of "gadgets" and "goods" in the interim.
My son Jeremiah was playfully complaining the other night about having to watch a VCR tape of a movie, rather than a DVD. He called it ancient technology, and was irritated that it was necessary to wait for it to rewind before we could watch it.
That's the way gadgets, gizmos, and other possessions seem to be. What once was a marvel, and all that was needed to "make us happy", becomes hollow and empty after a while; destined to be replaced by the newest and best.
Do you have a cell phone? Maybe so, but does your cell phone have a 3 megapixel camera, internet browsing and the ability to play MP3 files?
Do you have a computer? Fine, but does your computer have an AMD dual processor, a 750 MB hard drive, a 27 inch LCD monitor and the latest nVidia graphics card?
Do you have a car? OK, but does your car have an electric motor powered by 6800 lithium ion batteries, capable of going from 0-60 in 4 seconds, with a top speed of 130 mph? Can it go 250 miles on one 3.5 hour charge?
I could go on, asking about your stamp collection, fishing reel, model airplane, microwave oven, sewing machine or gardening tools, but I don't know much about them.
The point is that people who have the latest and greatest are no happier than people who lived a generation, century or millennium ago. True happiness is not to be found in money or things. True and lasting happiness is to be found only in fruitful service to Jesus.
Jesus said, "As the Father loved Me, I also have loved you; abide in My love. 10 If you keep My commandments, you will abide in My love, just as I have kept My Father's commandments and abide in His love. 11 These things I have spoken to you, that My joy may remain in you, and that your joy may be full" (John 15:9-11). He offers to His disciples a life filled with love and joy.
In contrast, He told them, "Take heed and beware of covetousness, for one's life does not consist in the abundance of the things he possesses" (Luke 12:15).
We must make the decision. Will we pursue the riches of the world, or the "unsearchable riches of Christ" (cf. Ephesians 3:8)?
"For what profit is it to a man if he gains the whole world, and loses his own soul? Or what will a man give in exchange for his soul?" (Matthew 16:26).