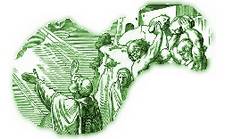 Martyrdom is defined as "the suffering of death on account of adherence to a cause and especially to one's religious faith" (Webster's). In respect to the Christian faith, martyrdom is dying because of the profession of faith in Jesus Christ as Lord and Savior. Perhaps the best known example of such a death is also the first example, that of Stephen, whose stoning is recorded in Acts 7:57-59, "Then they cried out with a loud voice, stopped their ears, and ran at him with one accord; 58 and they cast him out of the city and stoned him. And the witnesses laid down their clothes at the feet of a young man named Saul. 59 And they stoned Stephen as he was calling on God and saying, "Lord Jesus, receive my spirit."
Stephen was not the only one to lose his life for the Lord. In addition to the Old Testament martyrs mentioned by Stephen before his death, "Which of the prophets did your fathers not persecute? And they killed those who foretold the coming of the Just One, of whom you now have become the betrayers and murderers" (Acts 7:52), James was killed by Herod (Acts 12:2), and Antipas also lost his life in service to Christ (Revelation 2:13).
In fact, persecution and possible martyrdom was the lot of the early Christian. The stoning of Stephen was the opening volley in an attack against the faith. In Acts 8:1-3, we read of the dangers facing the early Christians. "Now Saul was consenting to his [Stephen's] death. At that time a great persecution arose against the church which was at Jerusalem; and they were all scattered throughout the regions of Judea and Samaria, except the apostles. 2 And devout men carried Stephen to his burial, and made great lamentation over him. 3 As for Saul, he made havoc of the church, entering every house, and dragging off men and women, committing them to prison."
We are fortunate to live in an age and culture where such physical persecution is not common. While it can be said that our country is antagonistic toward a profession of the true Christian faith, that opposition does not normally reach the point where the Christian is in physical danger. That being said, we should not take our relative safety for granted. Circumstances could change quickly. For example, it would only take the passing of a federal law protecting the sexual orientation of homosexuals as a basic right to make it unlawful and punishable by law for evangelists to condemn the practice, and for churches to discriminate against gays in their hiring policies. While the political climate to this point has not reached such an extreme, the trend is not promising.
It should be understood that persecution and martyrdom are possibilities that all Christians face. And, both our Lord and the apostles warn us of the potential. For example, in Matthew 10, Jesus warned His disciples of the possibility of persecution when he sent them on the mission of preaching to the "lost sheep of the house of Israel." He said, "But beware of men, for they will deliver you up to councils and scourge you in their synagogues" (vs. 17). Also, "Now brother will deliver up brother to death, and a father his child; and children will rise up against parents and cause them to be put to death" (vs. 21).
The reason for the persecution of Christians is likewise given in the text. Jesus said, "A disciple is not above his teacher, nor a servant above his master. 25 It is enough for a disciple that he be like his teacher, and a servant like his master. If they have called the master of the house Beelzebub, how much more will they call those of his household!" (vs. 24-25). The Jews killed Jesus because of who He claimed to be. It is not surprising that they would also seek to kill those who accept His testimony regarding Himself.
The apostle Paul had the right attitude toward persecution. When Agabus prophesied by the Holy Spirit that Paul would be imprisoned if he went to Jerusalem, Philip and others in Caesarea pleaded with Paul not to go. Paul answered, "What do you mean by weeping and breaking my heart? For I am ready not only to be bound, but also to die at Jerusalem for the name of the Lord Jesus" (Acts 21:13).
The prospect of martyrdom is intimidating. But, God is with us. Jesus said, "Do not fear those who kill the body but cannot kill the soul. But rather fear Him who is able to destroy both soul and body in hell" (Matthew 10:28). If we can remember the ultimate victory to be had in Christ, even death will not cause our faith to falter.
Remember the proclamation of our Lord in his message to those first century Christians who had reason to fear martyrdom: "Do not fear any of those things which you are about to suffer. Indeed, the devil is about to throw some of you into prison, that you may be tested, and you will have tribulation ten days. Be faithful until death, and I will give you the crown of life" (Revelation 2:10). While death is always a possibility as we profess Christ as Lord, because He is truly the Son of God, death holds no sway over us. Truly, even in death, we are "more than conquerors through Him who loved us" (cf. Romans 8:37).