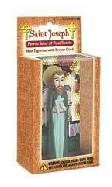 In the Saturday, September 2nd edition of the Fort Worth Star Telegram, there was an article entitled, House sellers put their faith in saintly intervention. The article refers to the practice of burying a statue of St. Joseph upside down in the yard of a home for sale will bring good luck to homeowners desperate to sell. In looking for a representative statue to accompany this story, I came across this "kit" for sale for $4.95 at an online novelty store, with the accompanying caption and description:
St. Joseph – Patron Saint of Real Estate
Based on the circumstances surrounding them, some Saints become "patrons" of people, occupations, places or things. It's never been easier or more affordable to bring the power of a Patron Saint to your aid. Each 3-3/4″ tall, hard plastic Saint comes with a 3″ stand embossed with the Saint's name and a removable backdrop with the Saint's title, patronage and a prayer to help invoke the power of that Saint.
The reference is to Joseph, the earthly father of Jesus.
As Joseph was a carpenter, he was pronounced by the Catholic church to be the patron saint of home life. According to the Star Telegram story, "An old tradition maintains that burying a statue of St. Joseph upside down will help sell a house. Afterward, sellers are advised to dig up the statue and display it in a place of honor in the new home."
The author, Henry J. Gomez, started the article by writing:
"Some call it superstition. Others call it faith. Just about everyone agrees: For less than 10 bucks, it's worth a try.

"St. Joseph is the most affordable real estate agent for hire. And as more homes languish in an increasingly cool housing market, he also is one of the most popular."
I'm certainly with the first group, as the practice is rank superstition. We are quick to call the ancients ignorant and superstitious, but it seems such ignorance has its place in every age and culture.
The problem comes with the idea that "it couldn't hurt!" The idea that praying to Joseph instead of God, and giving a hard plastic, cartoonish figurine a place of "honor" in your home is harmless is certainly not so! It is idolatry, plain and simple.
I know Catholics claim that invoking a saint to intercede on their behalf does not properly constitute idolatry. However, in scripture prayers and intercessions are always addressed to the Almighty Father. Remember the instructions our Lord gave to His disciples: "In this manner, therefore, pray: Our Father in heaven, Hallowed be Your name…" (Matthew 6:9).
It is no wonder that the world ridicules their concept of the Christian faith. Such a trivialization and distortion of truth belief in Christ makes a farce of the Faith.