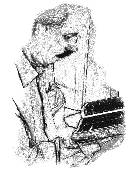 In 1 Chronicles 28, King David called all of the leaders of Israel, (captains, stewards and men of valor), to himself, and explained to them that Solomon had been chosen by God to follow him on his throne, and to build the temple. He told them that God had promised to establish Solomon's kingdom "forever", "if he is steadfast to observe My judgments and My commandments, as it is this day" (vs. 7).
In verses 8-10, he first addressed the leaders of Israel, and then Solomon, enjoining them to seek God and His will. Notice the passage:
Now therefore, in the sight of all Israel, the assembly of the LORD, and in the hearing of our God, be careful to seek out all the commandments of the LORD your God, that you may possess this good land, and leave it as an inheritance for your children after you forever. 9 As for you, my son Solomon, know the God of your father, and serve Him with a loyal heart and with a willing mind; for the LORD searches all hearts and understands all the intent of the thoughts. If you seek Him, He will be found by you; but if you forsake Him, He will cast you off forever. 10 Consider now, for the LORD has chosen you to build a house for the sanctuary; be strong, and do it.
The phrase "be careful to seek out all the commandments of the Lord your God" is especially instructive to us.
It clearly indicated that in order for the people of Israel to maintain their status as the chosen people of God, they had to diligently and completely submit to His will. This was true of the people, the leaders of the people, and Solomon himself. "As for you, my son Solomon, know the God of your father, and serve Him with a loyal heart and with a willing mind…" (vs. 9).
What every man must recognize is that his first and most important purpose in life is to seek the Lord. The redemption of any individual is tied to this important realization. God's purposes in dealing with the nations of men is to bring them to this understanding. Note the apostle Paul's speech to the Athenians on this matter:
"And He has made from one blood every nation of men to dwell on all the face of the earth, and has determined their preappointed times and the boundaries of their dwellings, 27 so that they should seek the Lord, in the hope that they might grope for Him and find Him, though He is not far from each one of us; 28 for in Him we live and move and have our being, as also some of your own poets have said, 'For we are also His offspring'" (Acts 17:26-28).
It is gratifying to note that "He is not far from each one of us", but our responsibility remains to "grope for Him and find Him." Of course, it is not hard to gain awareness of His existence and person. As Paul wrote, "For since the creation of the world His invisible attributes are clearly seen, being understood by the things that are made, even His eternal power and Godhead…" (Romans 1:20). There is a difference, however, between knowing about God, and knowing His will for man!
There is only one way for a man to know the mind and will of God. As Paul put it, "…Even so no man knows the things of God except the Spirit of God" (1 Corinthians 2:11).
Fortunately the Spirit of God has revealed the things of God to man. In that same chapter Paul wrote, "'Eye has not seen, nor ear heard, Nor have entered into the heart of man The things which God has prepared for those who love Him.' 10 But God has revealed them to us through His Spirit. For the Spirit searches all things, yes, the deep things of God" (vss. 9-10).
In the Bible we have the will of God revealed. In it, "Holy men of God spoke as they were moved by the Holy Spirit" (2 Peter 1:21). In it and it alone we obtain the guidance we need to make the decisions that will enable us to enjoy the reward of His favor. If we lean to our own understanding, we endanger our souls. As Jeremiah said, "…It is not in man who walks to direct his own steps" (Jeremiah 10:23). Each of us must carefully seek His will, contained in His word, to "possess this good land" (cf. 1 Chronicles 28:8), i.e. — an eternal abode with God in heaven.