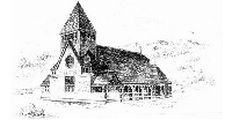 I recently came across an interesting sermon outline by Mark Copeland with the above title. There were five major points in the sermon that I thought were very good, and wanted to share with you in article form.
In Revelation, chapters 2 and 3, the Lord wrote letters to seven different churches, some of which could be categorized as weak, and some as strong. One church in particular serves to make an important point. The church at Sardis, (cf. Revelation 3:1), was admonished by our Lord, "I know your works, that you have a name that you are alive, but you are dead." A congregation can have a nice building, have many members, can have a lot of "program", and can run smoothly and still be dead.
The better way of gauging the relative strength of a church is by determining whether the congregation has the characteristics of the church as revealed in the New Testament. There are terms such as "body", "family", "temple", "kingdom", "bride", that establish principles which are the foundation of strength among God's people.
A Strong Church Functions Like a "Body"
The church is the body of Christ. "Now you are the body of Christ, and members individually" (1 Corinthians 12:27). The first, obvious point to be made from this illustration is that a body is a living organism. Unlike Sardis, a strong church is living and vibrant. Beyond this, a body is composed of sundry members, each different and necessary. Every Christian must appreciate how important they are to the body, and how important the others are as well. The key is that everyone has to do their part! "the whole body, joined and knit together by what every joint supplies, according to the effective working by which every part does its share, causes growth of the body for the edifying of itself in love" (Ephesians 4:16).
A Strong Church Loves Like A "Family"
Consider the examples with which you are personally familiar. Strong families are families that show a care and concern for one another. Love is present. It is not only professed, but also manifested in affection and in the welfare sought for one another. A wonderful example of a congregation exhibiting such love is the church in Thessalonica. "We are bound to thank God always for you, brethren, as it is fitting, because your faith grows exceedingly, and the love of every one of you all abounds toward each other" (2 Thessalonians 1:3).
A Strong Church Praises Like a "Temple"
1 Kings 8 is a wonderful chapter, expressing the joy of Israel at the completion of the temple built by King Solomon. The text time and again notes that God's true dwelling place is heaven, but the purpose of the temple is to allow his people to "pray towards this temple", and God will "hear in heaven." In verse 63 it is recorded, "And Solomon offered a sacrifice of peace offerings, which he offered to the LORD, twenty-two thousand bulls and one hundred and twenty thousand sheep. So the king and all the children of Israel dedicated the house of the LORD." The church is now God's temple, "Do you not know that you are the temple of God and that the Spirit of God dwells in you?" (1 Corinthians 3:16). When you consider just how important the temple was to the people, and the importance placed upon it by God himself, it will help to establish the importance of reverence and ardor as we offer the fruit of our lips in praise and worship to God.
The Church Submits Like a Kingdom
Those who obey the gospel of Christ become citizens of the kingdom of Christ. "He has delivered us from the power of darkness and conveyed us into the kingdom of the Son of His love" (Colossians 1:13). As Christ is the king, as citizens we are obligated to heed and obey His commands. A strong church recognizes the authority of Jesus, and does His bidding. Too often today churches treat Christ like the figurehead which is the royalty in England. To be respected, but irrelevant with regard to laws and living. Christ is not a figurehead!
The Church is Pure Like a "Bride"
Paul used this metaphor in his second epistle to the Corinthians. "For I am jealous for you with godly jealousy. For I have betrothed you to one husband, that I may present you as a chaste virgin to Christ" (11:2). Christ is the bridegroom, and the church is the bride. It is interesting and noteworthy that Paul here emphasizes chastity. Any unfaithfulness to Christ (idolatry, worldliness, rebellion) would be a violation of this principle. This is an important consideration as we consider our moral lives as his people. The church at Corinth was admonished by Paul for tolerating immorality (cf. 1 Corinthians 5). Christians must live lives of purity whether it be in doctrine or morals, and pledge our faithfulness to our Lord in all things.
Such is the measure of a strong church. The question is, are you doing whatever you possibly can do to ensure that your efforts for the Lord strengthens his church? This church?