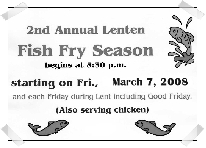 Ash Wednesday is February 6, beginning the Catholic observance of Lent in the six weeks preceding the observance of Easter Sunday.
If you aren't familiar with the terms, it is not surprising. There is no reference in scripture to either Lent or Easter, and the practice has its origins in Catholic church tradition rather than in the word of God.
One of those traditions is the practice of abstaining from eating meat on Friday during Lent. In certain areas of the country, such as Wisconsin, the practice is pervasive. Notice the following from an AP article, posted Friday:
It wouldn't be Friday night in Milwaukee without a fish fry.

Nearly every restaurant has one, including drive-thrus, Latin supper clubs and pizza joints. Kathleen Hohl even spotted a sign for one at a local Wendy's.

"I about drove off the road," said Hohl, spokeswoman for the Archdiocese of Milwaukee.

Fish fries are common in many places during Lent, which starts next week, but you'd be hard-pressed to find a spot where they are as pervasive year-round as Wisconsin.

A Roman Catholic ban on eating meat on Friday, German traditions, access to the Great Lakes and the lifting of Prohibition combined to make fish fries a staple of Wisconsin social life, said Janet Gilmore, a University of Wisconsin-Madison folklore professor who has studied them extensively.

They even continued to grow after the Catholic church eased its rules on abstaining from meat in the 1960s.

"It was sort of a habit that people got into, and people kept on doing it, both in churches and in restaurants," Milwaukee historian John Gurda said.

~ AP, M.L. Johnson
Lent began as a two day fast before Easter. According to Catholic sources, the practice originated in the fourth century, A.D. Easter itself is a Catholic ordained observance of the resurrection of Jesus.
The official Catholic position on Lent, established in 1983, is that a fast is to be honored by all Catholics on Ash Wednesday and Good Friday, and meat is to be avoided on all Fridays during Lent. At one time Catholics were expected to avoid meat on all Fridays.
The question is not whether a Christian may fast (cf. 1 Corinthians 7:5) or abstain from eating meat (cf. Romans 14:6). These things are certainly allowed, though never commanded by God.
The question is whether a church has the right to elevate such man-made traditions to the level of "Canon Law." (Note, the Catholic requirements mentioned above were lifted from the 1983 Revision of the Catholic Code of Canon Law). This is a practice clearly condemned by Jesus in Matthew 15:8-9.
Paul clearly taught that such practices as "commanding to abstain from foods which God created to be received with thanksgiving" as a sign of a departure "from the faith" (1 Timothy 4:1-5).