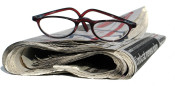 (This article originally appeared as a paid ad in March 2012 in the newspapers published by Suburban Newspapers, Inc. The papers cover five small communities in the Forth Worth area).
Many religious people say that God doesn't care what your doctrine is, as long as you believe in Christ. But, the apostle John wrote, "Whoever transgresses and does not abide in the doctrine of Christ does not have God. He who abides in the doctrine of Christ has both the Father and the Son" (2 John 9).
Many religious people say they are glad that there are so many different churches where men may go and worship as they please. But, Jesus prayed to His Father in heaven, "That they all may be one, as You, Father, are in Me, and I in You; that they also may be one in Us, that the world may believe that You sent Me" (John 17:21).
Many religious people protest that objective truth is unknowable. However, Jesus said, "And you shall know the truth, and the truth shall make you free" (John 8:32). Further, the apostle Paul promised concerning the revelation he had received from the Holy Spirit, "when you read, you may understand my knowledge in the mystery of Christ" (Ephesians 3:4).
Many religious people are simply unwilling to work at knowing God's will, and limiting themselves to His directions for them in their lives. The brethren at West Side know how important it is to study God's word, and to use it as the blueprint they follow in their daily lives. Would you like to know and understand God's will for you? Come visit the West Side church of Christ.
.