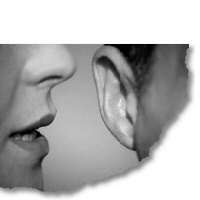 In James 3:6 the text reads, "And the tongue is a fire, a world of iniquity. The tongue is so set among our members that it defiles the whole body, and sets on fire the course of nature; and it is set on fire by hell." The dangers present anytime we open our mouths should give us pause, and encourage us to take great care in our speech. "In the multitude of words sin is not lacking, but he who restrains his lips is wise" (Proverbs 10:19).
Following are some of the sins we may commit when we open our mouths to speak:
Gossip. Whether true or not, gossip is destructive, and violates the law of love. "A talebearer reveals secrets, but he who is of a faithful spirit conceals a matter" (Proverbs 11:13). There is nothing more destructive to a friendship than this traitorous action.

Lying. The Lord revealed to John that "all liars shall have their part in the lake which burns with fire and brimstone, which is the second death" (Revelation 21:8). While man may minimize the sinfulness of the action, the Bible says, "Lying lips are an abomination to the Lord" (Proverbs 12:22).

Blasphemy. The word means, "slander, detraction, speech injurious, to another's good name" (Thayer). One can speak evil against a person, or against God. Such evil speaking, no matter to whom it is directed, is sinful. Paul said that Christians must "put off" blasphemy (cf. Colossians 3:8).

Profanity. Another thing Paul says to "put off" in Colossians 3:8 is "filthy language out of your mouth." Scatological or sexual language, taking the Lord's name in vain (cf. Exodus 20:7), and other examples of prurient speech is the hallmark of the corrupt mind. The fact that cursing has become so ubiquitous in our society is hard proof of a people who no longer retain God in their knowledge. George Washington, while leading the Continental army expressed sorrow upon learning that his soldiers had adopted the practice of using profanity. He called it a foolish and wicked practice, and wrote, "we have little hope of the blessing of heaven on our arms, if we insult Him by our impiety and folly." Also included in this broad category would be the use of innuendo, euphemisms, and the use of off-color humor. Phrases such as "not for mixed company" and "NSFW" are accompanied by a wink and a nudge when these indefensible actions are taken.

Sowing Strife. "A soft answer turns away wrath, but a harsh word stirs up anger" (Proverbs 15:1). This type of language is characteristic of the one who sows strife, who is identified by the writer of Proverbs as "perverse" (cf. 16:28). Among the seven things that are an "abomination" to God is "one who sows discord among brethren" (Proverbs 6:19).

Idle Words. Paul admonished in Ephesians 5:4 against "foolish talking" and "coarse jesting." The Lord warned, "But I say to you that for every idle word men may speak, they will give account of it in the day of judgment" (Matthew 12:36). While this does not condemn all casual conversation or the use of humor, it does establish the importance of guarding your speech. Idle words are weeds in the garden of speech (cf. Leviticus 19:14; Prov. 17:5).
Because the tongue is so difficult to control, each of us should be "slow to speak" (James 1:19). "No man can tame the tongue. It is an unruly evil, full of deadly poison" (3:8). The wise understand this, "He who has knowledge spares his words, and a man of understanding is of a calm spirit" (Proverbs 17:27). As Solomon wrote, "a fool's voice is known by his many words" (Ecclesiastes 5:3).
Instead of sinning with your tongue, why not pray this prayer, "Let the words of my mouth and the meditation of my heart be acceptable in Your sight, O Lord, my strength and my Redeemer" (Psalm 141:3).