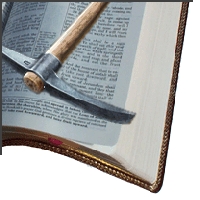 Paul was extremely dedicated in the preaching of the gospel of Jesus Christ (15). The reason for this is stated clearly in our text. God chose to save mankind through the preaching of the gospel message! (cf. 1 Corinthians 1:21-25).
The power of the gospel is found in the fact that it is true! The gospel is the message of Christ's life, death and resurrection from the dead. The fact that His life was sinless, His death was vicarious, and His resurrection is certain means that belief in Him brings salvation to mankind. The reference to both Jew and Greek indicates that salvation is available to all men, no matter their nationality!
The phrase "from faith to faith" is difficult. Consider the fact that our faith emanates from the revelation of God's will, referred to as "faith" in scripture (see Acts 6:7; Romans 10:17). The righteous man lives by the dictates of God's will for him.