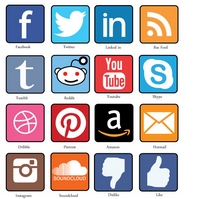 A couple of months ago I preached a sermon titled Cyber-Sin. I talked about the dangers of being on the internet, and mentioned that social media sites such as Facebook, Twitter and Instagram are especially treacherous waters for Christians to navigate. Gossip, malicious words, worldly influences and lascivious pictures and links can all be present in those places. While typically there are steps that can be taken to avoid most of these pitfalls, many Christians are less than careful, and fall into sin.
I also preached the lesson in a recent meeting, and on both occasions received kind comments, as most recognize the need for the warnings, and that the criticism is just and accurate.
However, as I mentioned then, (and want to emphasize now), there are positives to using social media. If a Christian is careful and proactive, he can not only avoid the evil out there, but also can be strengthened and in turn strengthen others.
For example, brother Justin Carrell created a private page for the members of the congregation who utilize Facebook. Only members at West Side are part of the group, and it is often used to make prayer requests, and inform the members of important items such as illnesses, studies, and other matters of interest to the congregation.
Also, those who use Facebook often receive information regarding other Christians in other places who are in need of prayers. It is hard to imagine how many more of the faithful are praying for those who are ill or in need simply because they know about situations of which they would otherwise be unaware.
Then there is the use for which Facebook was designed, to keep up with friends and family. While this may not have a direct spiritual implication, it is wholesome and good.
What excites me most is the opportunity to spread the gospel. Many Christians are contributing articles, videos and other links that contain the truth of God's word. Others may not be creating content, but they are sharing those materials with their friends. It is typical for Christians who use Facebook to have friends on the site that are not Christians, so this is often an evangelistic tool.
A couple of days ago, I recorded a simple five minute video showing that the scriptures teach we must hear the gospel of Christ, believe it, repent of our sins, confess Christ as Lord, and be baptized for the remission of sins. At the moment I am writing this, the video has been shared by 21 different people, meaning that it has appeared in several thousand feeds. It has been viewed around 650 times. It is not exactly a "viral" video, but I am gratified that so many are watching a portion of the gospel preached. I would love the opportunity to stand before 650 people every Sunday to share the truth of God!
The internet is a tool. Our website (soundteaching.org ) and our Facebook presence may not have a direct impact on our numbers at West Side, but they allow the seed to be planted in many other places. That alone makes their utilization worth the effort. The Lord's voice is being heard because of countless efforts on the part of the faithful to share His message using these means.
"For since, in the wisdom of God, the world through wisdom did not know God, it pleased God through the foolishness of the message preached to save those who believe"

(1 Corinthians 1:21).