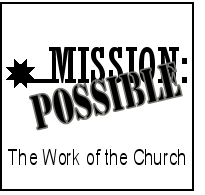 Every TV episode and Movie begins the same way, with a recorded message containing the words: "Your mission, should you choose to accept it…"
I remember as a kid loving the Mission: Impossible television program. It had a group of "cool" spies who were able to accomplish the "impossible" because of their intelligence, bravery and gadgets. Each mission consisted of various stated objectives, authorized by some shadowy governmental agency. They were not freelancers, they followed the directives of the agency. Because of their abilities and position, they were give a job to do, and they did it.
The show came to mind recently as I involved myself in a study of the "mission" given by God to His church. The parallels are obvious, and illustrate the nature of God's relationship to His people.
The church shouldn't "freelance." The religious world today seems to think that any mission, so long as it is couched in spiritual terms, is worthy of pursuit. This view leads to various groups involving themselves in rather ridiculous pursuits "in the name of the Lord." How have we reached the point where people can with a straight face talk about their church's softball team, or "mother's day out" programs, or a myriad of other "ministries" that seldom have even a tangential involvement with spiritual matters? The phenomenon has been given a name, the "social gospel." It had its genesis in America as an intellectual movement in the early 20th century. Social gospellers believed that the church should be focusing its resources toward resolving social problems such as poverty, alcoholism, racial tensions and crime. Reality check: These problems remain 100 years later, and countless resources have been squandered in work the Lord never intended the church to do!
The church was established by God to accomplish the important work of saving souls through the proclamation of truth (cf. 1 Timothy 3:15). This is accomplished first by evangelizing the lost (cf. Romans 10:14-15), and then by strengthening and edifying the believer (cf. Ephesians 4:11-16). That, in a nutshell is what God willed His church to do! Interestingly, the work of evangelism (proselytizing) is something that many churches have determined to be intolerant and judgmental. To wit, if I tell a man that he is lost and in need of salvation, I am engaging in hateful and judgmental rhetoric! In effect, men have decided that the work God gave the church to do is the one work the church should not be doing at all!
Poverty, alcoholism, racism, crime and other societal ills are serious things. Christians certainly should do their part in helping to deal with these things. God has appointed institutions such as government and the home to deal with these issues. He has also made clear that Christians should do what they can as individuals to alleviate human suffering (cf. Luke 10:30-37; James 1:27). What he did not do is appoint this work to His church. He reserved His church to the more important work of saving souls. And yes, saving souls is more important than alleviating human suffering. Remember the warning of our Lord, in Matthew 7:20-21, "Not everyone who says to Me, 'Lord, Lord,' shall enter the kingdom of heaven, but he who does the will of My Father in heaven. Many will say to Me in that day, 'Lord, Lord, have we not prophesied in Your name, cast out demons in Your name, and done many wonders in Your name?' And then I will declare to them, 'I never knew you; depart from Me, you who practice lawlessness!'"
We have been trained by God's saving grace. Paul wrote Titus, "For the grace of God that brings salvation has appeared to all men, teaching us that, denying ungodliness and worldly lusts, we should live soberly, righteously, and godly in the present age, looking for the blessed hope and glorious appearing of our great God and Savior Jesus Christ, who gave Himself for us, that He might redeem us from every lawless deed and purify for Himself His own special people, zealous for good works" (2:11-14). He is the one who determines what good works the church is to do.
With God's help, our MISSION is POSSIBLE! Scripture reveals that God has equipped His people for "every good work" (cf. 2 Timothy 3:16-17). Paul wrote, "I can do all things through Christ who strengthens me" (Philippians 4:13).
If God wants us to evangelize the lost, then we need to train ourselves to become proficient in wielding the "sword of the Spirit", and go and share the gospel. If we plant and water the seed that is God's word, we are assured that God will prick the hearts of men through that word. "So then neither he who plants is anything, nor he who waters, but God who gives the increase" (1 Corinthians 3:7).
What we need today are men and women who are content to do God's bidding. There is too much willfulness afoot, as men seek to serve God in ways that suit them personally. We are not supposed to concern ourselves with what we want, but what God wants. It's what being a "bondservant of Christ" (cf. Galatians 1:10) is all about. If we accept this to be so, then it is MISSION: POSSIBLE!