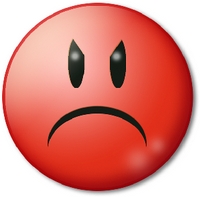 Perhaps you have read the following story:
There once was a little boy who had a bad temper. His father gave him a bag of nails and told him that every time he lost his temper, he must hammer a nail into the back of the fence.
The first day the boy had driven 37 nails into the fence. Over the next few weeks, as he learned to control his anger, the number of nails hammered daily gradually dwindled down. He discovered it was easier to hold his temper than to drive those nails into the fence.
Finally the day came when the boy didn't lose his temper at all. He told his father about it and the father suggested that the boy now pull out one nail for each day that he was able to hold his temper. The days passed and the young boy was finally able to tell his father that all the nails were gone.
The father took his son by the hand and led him to the fence. He said, "You have done well, my son, but look at the holes in the fence. The fence will never be the same. When you say things in anger, they leave a scar just like this one. You can put a knife in a man and draw it out. It won't matter how many times you say I'm sorry, the wound is still there."
The little boy then understood how powerful his words were. He looked up at his father and said "I hope you can forgive me father for the holes I put in you."
"Of course I can," said the father.
It's not always anger, it is your actions in general. There are no "fresh starts" in life. There is no new beginning. Forgiveness comes easy for many people but the scars of the past, they never go away. Watch what you do today, because sometimes the price isn't worth the reward.
(Author Unkown)
What a wonderful lesson. Anger is so destructive. Words spoken in anger have the potential to do irreversible harm. The Bible is replete with warnings about anger. Consider the following:
"A wrathful man stirs up strife, but he who is slow to anger allays contention" (Proverbs 15:18).

"Make no friendship with an angry man, and with a furious man do not go, lest you learn his ways and set a snare for your soul" (Proverbs 22:24-25).

"Do not hasten in your spirit to be angry, for anger rests in the bosom of fools" (Ecclesiastes 7:9).
It is no surprise that among the qualifications for an elder are these gems, "not quick tempered" and "not violent" (Titus 1:7). Anger, and the words and actions it brings are antithetical to the Christian walk. They are diametrically opposed to the golden rule Christ gave to us, "Therefore, whatever you want men to do to you, do also to them" (Matthew 7:12). Anger is an antonym to love, gentleness and kindness. It stands opposed to the command of John, "My little children, let us not love in word or in tongue, but in deed and in truth. And by this we know that we are of the truth, and shall assure our hearts before Him" (1 John 3:18-19).
Are you a faithful child of God? If so, expressions of anger must not be a characteristic of your speech or life!