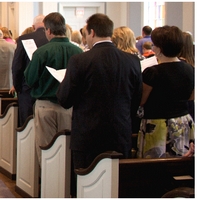 Yesterday evening I had an opportunity to join in worship with the saints at the Elm Street congregation in El Reno, Oklahoma. This fine congregation met in the final night of our gospel meeting, singing beautiful songs of praise to God, offering up sincere petitions in prayer, and kindly listening to my final effort to share a message from God's word as our week together concluded.
My final plea was based on the text of Philippians 2:
"Therefore God also has highly exalted Him and given Him the name which is above every name, that at the name of Jesus every knee should bow, of those in heaven, and of those on earth, and of those under the earth, and that every tongue should confess that Jesus Christ is Lord, to the glory of God the Father" (vs. 9-11).
I noted that God has given all authority to Jesus Christ, and that at the judgment all will bow down before Him. I further pled with those present to ensure that they acknowledge His Lordship now, before it is too late.
This is a proper application of Paul's words. He is extolling the Lordship (authority) of Christ, and noting that He will judge all mankind as He sits on the throne of judgment in the final day.
This morning I read an article entitled, "Every knee shall bow… except in the church of Christ?" It was posted to Facebook . The author used the passage quoted above as the proof text for a very different sentiment. As indicated in the title, he was expressing criticism of the Lord's church.
I have no problem with criticizing God's people. In fact it is a big part of my job as I seek to emulate the examples of Paul and the other New Testament writers. However, in this case I believe the criticism to be flawed and unjust. Let me explain why.
First, the author took the text of Philippians 2 out of its context, in an attempt to give substance to his criticism. He believes that the "restrained tradition" regarding worship to God "is lacking something significant." In this, he attributes the phrase "every knee should bow" in the text as applicable to public worship. The single text he used in his entire article to scripturally validate his criticism of God's people does not teach the principle for which he contends.
I do not doubt that some who worship God in churches of Christ are "unmoved, unimpressed and unwilling to unleash the heart." However, such sin has nothing to do with style. Its presence can't be ascertained with subjective judgment based upon a presence or lack of overt emotion. It is equally valid to note that there are many who are overtly emotional in their worship to God who nevertheless are exhibiting a heart that is hardened before Him.
In fact, this would be the true point of the verse under consideration. Consider a worshipper in the Pentecostal movement who is given over to loud hallelujahs, vociferous amens, swaying, the raising of hands, clapping, and falling on the ground prostrate in his worship. He has in no way bowed his knee before Jesus because the phrase indicates a submission to Christ's authority and will. He worships as it pleases him, and such willful worship is vain before God (cf. Matthew 15:7-9). In contrast, an assembly of Christians who worship God "decently and in order" (cf. 1 Corinthians 14:40), are expressing in their worship a quiet devotion and submission to their Lord. In the very way Paul meant, they are bowing their knees before the Lord.
Don't misunderstand, I do not have a problem with any "style" of worship, so long as it is done in "spirit and truth" (John 4:24). This would include the above mandate to do things "decently and in order"; would include women observing their proper place in the assembly (cf. 1 Corinthians 14:34-35); and would include the necessity of conforming our actual acts of adoration to the divine standard.
There are aspects of the article that ask legitimate questions. It is incumbent upon all of us to examine our hearts, and render to our God a proper reverence, devotion and humble spirit. However, in the title of the article itself, there is expressed a severe rebuke of God's people. It is a rebuke that is revealed in the article to be based upon a subjective disapproval of the quiet and restrained worship commonly found in churches of Christ.
Interestingly, the article ends with the following quote from Elizabeth George:
"Worship is an inward reverence,
The bowing down of the soul in the presence of God."
This is precisely so, and whether a child of God in public worship stands, sits, gets on his knees, or on his belly has no bearing on his reverence, and the disposition of his soul. There is not a single member of the church of Christ that has lived, is now living, or will ever live so long as the Lord tarries who has not, by his obedience to the Lord Jesus Christ bowed his knee to Him. There is not a single member of the church of Christ who lifts up his voice in song, bows his head in prayer, or gathers around the Lord's table to remember His death that does not do the same. It offends me that someone would contend otherwise in judging the heart of my brethren because he doesn't approve of the style of our worship.