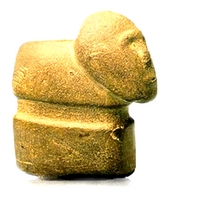 In Ezekiel 14, the prophet shared with the elders of Israel God's displeasure at the idolatry practiced by the nation. "I the Lord will answer him who comes, according to the multitude of his idols, that I may seize the house of Israel by their heart, because they are all estranged from Me by their idols" (4b-5).
God called upon them to "Repent, burn away form your idols, and turn your faces away from all your abominations" (vs. 6). If they would not, He warned, "I will set My face against that man and make him a sign and a proverb, and I will cut him off from the midst of My people. Then you shall know that I am the Lord" (vs. 8).
This prophecy has been fulfilled. The Jews who were unfaithful to God were judged by Him. The judgment they suffered is a proverb to us. We learn from their unfortunate example! "For whatever things were written before were written for our learning, that we through the patience and comfort of the Scriptures might have hope" (Romans 15:4).
But, many of us refuse to learn the lesson. We erect our own idols (things to which we give primacy rather than God). We don't consider the fact that we may be as guilty as the Israelites: "these men have set up their idols in their hearts, and put before them that which causes them to stumble into iniquity" (Ezekiel 14:3). Always put God first in your life, and avoid being a sign and a proverb to future generations.