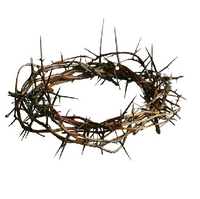 The typical Premillennialist believes that it was Jesus' intent while here on earth to establish His kingdom, and reign on a physical throne in Jerusalem. They believe that He was thwarted in His intent by the rejection of the Jews leading to His death. Therefore, He will not be able to establish His kingdom until He comes again. The truth is far different:
First, Jesus came to the earth to die. He knew He would die, and that death was a part of God's plan. This is clearly seen in His own words. After Peter declared Him to be the Christ, He said, "The Son of Man must suffer many things, and be rejected by the elders and chief priests and scribes, and be killed, and be raised the third day" (Luke 9:22).
Second, the Kingdom of Christ is not a physical kingdom. Again note the words of our Lord, "My kingdom is not of this world. If My kingdom were of this world, My servants would fight, so that I should not be delivered to the Jews; but now My kingdom is not from here" (John 18:36). The Premillennialists claim that when Jesus comes again, He will come with an army to fight a physical battle. They are wrong.
Third, the Kingdom of Christ has already been established. Paul asserts that truth. To the saints in Colosse he wrote, "He [God] has delivered us from the power of darkness and conveyed us into the kingdom of the Son of His love" (Colossians 1:13).
Fourth, when Christ comes again, that is it! There will be no 1,000 year reign, as He is reigning now. Peter described His future arrival, "But the day of the Lord will come as a thief in the night, in which the heavens will pass away with a great noise, and the elements will melt with fervent heat; both the earth and the works that are in it will be burned up" (2 Peter 3:10).