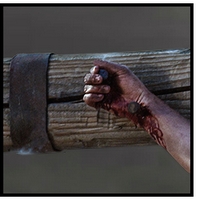 Peter wrote, "For to this you were called, because Christ also suffered for us, leaving us an example, that you should follow His steps" (1 Peter 2:21). He was referring to the necessity of bearing up under persecution. We are no better than our Lord. He suffered despite the fact that He was without sin (cf. vs. 22-23). So, Peter wrote, "For what credit is it if, when you are beaten for your faults, you take it patiently? But when you do good and suffer, if you take it patiently, this is commendable before God" (vs. 20).
In the text we see a reason for Jesus' willingness to suffer for us. "For this is commendable, if because of conscience toward God one endures grief, suffering wrongfully" (vs. 19). Certainly this was the case with Jesus. He did not deserve the indignities he suffered while among men. However, He willingly endured them because of His Father's will for Him. It was God's plan to send Jesus to earth to die for our iniquities. Jesus could not, in good conscience, refuse to submit to His father's will. Instead, He "humbled Himself and became obedient to the point of death, even the death of the cross" (Philippians 2:8). We are to emulate Him.
The suffering of Jesus is clearly revealed in scripture. It was foretold in prophecy:
"He is despised and rejected by men, a Man of sorrows and acquainted with grief. And we hid, as it were, our faces from Him; He was despised, and we did not esteem Him. Surely He has borne our griefs and carried our sorrows; yet we esteemed Him stricken, smitten by God, and afflicted. But He was wounded for our transgressions, He was bruised for our iniquities; the chastisement for our peace was upon Him, and by His stripes we are healed" (Isaiah 53:3-5).
Consider what Jesus' suffered (for our sake):
Jesus sacrificed His glory. Paul wrote of this in Philippians 2. "Let this mind be in you which was also in Christ Jesus, who, being in the form of God, did not consider it robbery to be equal with God, but made Himself of no reputation, taking the form of a bondservant, and coming in the likeness of men" (5-7). While in Heaven, He was extolled as God's Son, and sat at His right hand. When He came to earth, He humbled Himself in becoming a man. And, he was humiliated by His own creation as they rejected Him and hung Him on a tree.
Note: As we follow His example, we too must be willing to sacrifice any glory or honor we might otherwise attain, for His sake. This is a hard thing to do for some. "Nevertheless even among the rulers many believed in Him, but because of the Pharisees they did not confess Him, lest they should be put out of the synagogue; for they loved the praise of men more than the praise of God" (John 12:42-43).
Jesus sacrificed His comfort. "For you know the grace of our Lord Jesus Christ, that though He was rich, yet for your sakes He became poor, that you through His poverty might become rich" (2 Corinthians 8:9). Jesus had a hard life, with "nowhere to lay His head" (Matthew 8:20). He was an itinerant preacher, often dependent upon the kindness of others for food and shelter. His schedule, and the press of the people was wearisome to Him, and His burden was great (cf. Matthew 26:37-38).
Note: Christians may have to sacrifice our own comfort and ease as we are called in service to Jesus. Despite what it might cost us, Jesus said, "No one, having put his hand to the plow, and looking back, is fit for the kingdom of God" (Luke 9:62).
Jesus sacrificed justice. There was nothing fair about the treatment our Lord suffered at the hands of men. Men hated Him for bringing light into the world. Jesus proclaimed it a fulfillment of prophecy, "But this happened that the word might be fulfilled which is written in their law, 'They hated Me without a cause'" (John 15:25).
Note: In order to please our Lord, it is necessary that we seek His will, which often will bring disapproval from men. We must not allow this to trouble us, "But even if you should suffer for righteousness' sake, you are blessed. 'And do not be afraid of their threats, nor be troubled'" (1 Peter 3:14). If we seek to please Jesus, it may be that our experience will mirror that of Paul, "At my first defense no one stood with me, but all forsook me. May it not be charged against them. But the Lord stood with me and strengthened me, so that the message might be preached fully through me, and that all the Gentiles might hear. Also I was delivered out of the mouth of the lion" (2 Timothy 4:16-17).
Jesus' sacrifice, even to death, was an expression of love for all mankind. Consider the sentiment of a popular hymn:
"I gave My life for thee, My precious blood I shed,
That thou might'st ransomed be, and quickened from the dead.
I gave My life for thee; What hast thou given for Me?
What will you sacrifice in exchange for the sacrifice Jesus made for you?