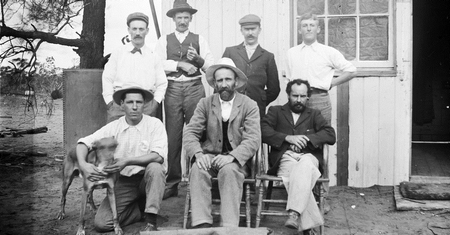 Many people in the world can be categorized as generally good. They may treat their families well, and behave in their interactions with their fellow man. They may exhibit kindness and generosity toward others. It is important for us to realize, however, that it is not kindness or generosity that saves our souls. Scripture clearly reveals to us that salvation is in Jesus Christ alone. Paul wrote, "But God demonstrates His own love toward us, in that while we were still sinners, Christ died for us. Much more then, having now been justified by His blood, we shall be saved from wrath through Him" (Romans 5:8-9).
The fact is, we are not perfect! We make mistakes in our lives, and sometimes those mistakes can be serious, with life changing consequences. When these mistakes fall into the category of sin, the consequences can be eternal in scope and horrible in nature. We all are in the same boat: "for all have sinned and fall short of the glory of God" (Romans 3:23). Since none are perfect, but God promised that some will be saved, it follows that salvation does not come through perfection. God has made provision to save us through faith in Jesus Christ.
Since this is the case, our standing with God is not based upon standards which men devise. Truly, God's thoughts are not our thoughts, and God's ways are not our ways! (cf. Isaiah 55:8-9).
For example:
Men place a great deal of emphasis on being a leader. While leadership is a commendable thing, it is interesting that in the Lord's Kingdom Jesus said, "But he who is greatest among you shall be your servant. And whoever exalts himself will be humbled, and he who humbles himself will be exalted" (Matthew 23:11-12). God places more value upon quietness, meekness and humility. Interestingly, in Jesus' dealing with men, leaders often rejected Him. In contrast, Mark records, "the common people heard Him gladly" (Mark 12:37).

Men think money is important. They place value upon earthly possessions, and those who are good at making money are considered to be great men. However, when we contemplate the nature of eternity, we can perceive the vanity of such thinking. As the Lord asked, "For what profit is it to a man if he gains the whole world, and loses his own soul? Or what will a man give in exchange for his soul?" (Matthew 16:26).

Men seek fame and prestige. They desire that people clamor for them, and seek their counsel on the important matters of the day — things such as politics, finances or education. They long for an appreciation dinner in his honor, or to have a street named after them. There is a need to feed the ego, and a haughty spirit within. Jesus, in His sermon on the mount, made clear that He considered other things to be of more value, "Blessed are the poor in spirit, for theirs is the kingdom of heaven. Blessed are those who mourn, for they shall be comforted. Blessed are the meek, for they shall inherit the earth" (Matthew 5:3-5).
Ultimately, the common man's value in the eyes of God can far surpass the man who is a leader, or the man who is rich, or the man who is famous. Only one thing needs to be true for this to be so. Simply, he must meekly submit himself to God's will.
One who has allowed the gospel to touch his heart, who has shown the fruits of a contrite and penitent heart, who has confessed the Lordship of God's son, and who has submitted to God's will in baptism for the remission of sins — is inexpressibly precious in the eyes of His God. It is important that he not demand anything of God. Too often in our day we expect God to accept us on our terms. The one God accepts is the one who wholly submits himself to the Lord.
His obedience and submission will not be perfect. From time to time he may struggle to live righteously before God. He may sin. But, if he never stops loving the Lord; if he always keeps that penitent and contrite heart; he will always return, and receive God's forgiveness.
The greatest legacy of the common man is his steadfast and faithful submission to God's will. He has great value because he has emptied himself, and allowed Jesus Christ to exert His will through his life (cf. Galatians 2:20). His hope is in the faithfulness and mercy of His God:
"Which is manifest evidence of the righteous judgment of God, that you may be counted worthy of the kingdom of God, for which you also suffer; since it is a righteous thing with God to repay with tribulation those who trouble you, and to give you who are troubled rest with us when the Lord Jesus is revealed from heaven with His mighty angels" (2 Thessalonians 1:5-7).
The common man, if he is a child of God, is not common at all. He is an adopted heir of eternal life!