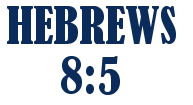 The apostle Paul knew of the tendencies of men to depend upon their own ideas and opinions to guide them in life. He also knew that such leads to ruin. He wrote, "But God has chosen the foolish things of the world to put to shame the wise, and God has chosen the weak things of the world to put to shame the things which are mighty" (1 Corinthians 1:27).
While men seek their own way, that they might receive praise from others, the wise man seeks God's way to be accepted by Him. This is where Christ comes in, "you are in Christ Jesus, who became for us wisdom from God – and righteousness and sanctification and redemption – that, as it is written, He who glories, let him glory in the Lord" (vs. 30-31).
This is why it is necessary to study, heed and obey the word of God. It is God's way, the way to true wisdom and eternal life.
To see The Patternists Page on Facebook, click here, and Like!