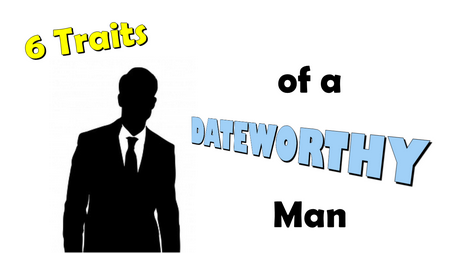 Relationships are hard. Lots of women are looking for love. Hopefully, Christian women are searching for a man who is worthy of a possible lifetime commitment.
While some care about whether a man is athletic, good looking, funny or educated, hopefully a Christian woman is more interested in finding a man who will represent, (as closely as possible), the ideal for a potential future husband and father.
Fortunately, God has revealed the characteristics that make for an ideal man. The Bible is a good place to go to figure out whether a man is "dateworthy." For example…
Number 1: Does he put God first?
You don't want a man who puts you first (though I admit you deserve to be right near the top!). The prophet Isaiah expressed a beautiful sentiment, talking to God, He said, "With my soul I have desired You in the night, yes, by my spirit within me I will seek You early; for when Your judgments are in the earth, the inhabitants of the world will learn righteousness" (Isaiah 26:9). It's just not possible for all to be right in your world if the man you love does not have God first in his life. Only then will he truly know righteousness, and be able to conform to that ideal we are talking about.
Number 2: Is he active in church?
In Texas we have a saying about a pretender, "He's all hat, but no cattle." It is sad to say, but some men will tell you what you want to hear, just to get you interested. A man who says that he puts God first, but seldom darkens the door of a church building is not being honest with you. Now, I know that some claim you don't have to be an active churchgoer to be close to the Lord…, but the Holy Spirit indicates otherwise! In Hebrews 10:25 He tells us to not forsake "the assembling of ourselves together, as is the manner of some."
I'll even go a step further. Is the man an active leader in that church? If he leads singing, preaches, leads prayer, or serves in other ways, so much the better! Remember, God intends a man to lead his home. Taking a leadership role among God's people is a good indication he will take a similar role in his own family.
Number 3: Does he personify what God defines a man to be?
No macho silliness here. Being a man has nothing to do with how big your muscles are, who you can beat up, or how good you are at hiding your feelings. The Christian ideal for a man includes attributes like kindness, selflessness and love. The Lord Himself serves as an example. "And being found in appearance as a man, He humbled Himself and became obedient to the point of death, even the death of the cross" (Philippians 2:8). When Peter described how husbands are to be with their wives, he wrote, "dwell with them with understanding, giving honor to the wife" (1 Peter 3:7). Take this as a rule of thumb. If you find a man who treats dogs and babies well…, that's a good sign that he will be kind to you as well!
Number 4: Is he a hard worker?
Now, he may still be in high school, or college, but does he work hard? For example, to get good grades? Or is he too busy sitting on his backside playing video games to make something of himself. Chances are, a man who has not learned the value of hard work while young will continue his laziness into adulthood. The apostle Paul was adamant about this. He wrote, "But if anyone does not provide for his own, and especially for those of his household, he has denied the faith and is worse than an unbeliever" (1 Timothy 5:8). A "dateworthy" man is a man who will always give his family and their welfare the highest priority. The guy who blows his money on the weekends with his friends…, and is too busy playing to make a living…, he is more a boy than a man.
Number 5: Does he show an interest in you?
When you talk is it always about his interests, his hobbies, his job, his toys? Do you really want to date a man who is indifferent to your needs? Remember what Peter said about the ideal husband, he is the one who dwells with his wife with "understanding."
Believe me, it is no picnic ending up with a man who is unwilling to spend time with your family…, to watch movies that you like…, or, to talk with you about your interests. There are many selfish men out there, but there are some diamonds who will treat you right. Remember Jesus words, "Therefore, whatever you want men to do to you, do also to them." (Matthew 7:12). No one wants to be ignored. A good man will be as interested in you and yours as you are in him and his.
Finally, number 6: Does he respect your purity?
Men as a rule, don't. Hormones are powerful things, and even men who claim to be Christians can be guilty of applying sexual pressure. Now, I know many in the world will make fun of the idea of abstaining from sex until marriage. But, it is God's way! "Marriage is honorable among all, and the bed undefiled; but fornicators and adulterers God will judge" (Hebrews 13:4).
Job once said, "I have made a covenant with my eyes; why then should I look upon a young woman?" (Job 31:1). The idea of "looking" there has reference to a leer, looking with lust. Jesus said, "… whoever looks at a woman to lust for her has already committed adultery with her in his heart" (Matthew 5:28).
Chastity is as important to a godly man as it is (or should be) to you. It is not merely respect for you, it is also respect for himself, and even more important respect for God that will keep him from pressuring you to do something that you both will regret.
We could go on and on, but that gives you a start. Remember, God wants you to find someone who will help you get to heaven. Keep these traits in mind, and the odds will be in your favor.