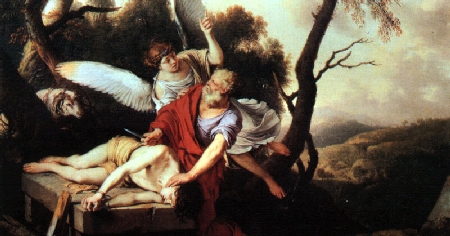 Abraham is a wonderful example of a man who had a total commitment of faith toward God. "By faith Abraham obeyed when he was called to go out to the place which he would receive as an inheritance. And he went out, not knowing where he was going. By faith he dwelt in the land of promise as in a foreign country, dwelling in tents with Isaac and Jacob, the heirs with him of the same promise; for he waited for the city which has foundations, whose builder and maker is God" (Hebrews 11:8-10).
The obstacles he encountered during his pilgrimage were formidable. His response of faith necessitated his remaining life be spent as a nomad in a land that was not his own. He suffered through famine, and danger because He believed the threefold promise God had made to him. God had promised that land where he dwelt in tents would be given to his descendants. He had promised that those descendants, (from Isaac, the son of promise), would become a great nation (Israel). Finally, God promised that through Abraham's seed a Savior of all nations would come (cf. Genesis 12:1-3).
Abraham's faith was tested. First, with the unnatural promise that a son would be born to him and Sarah. The two were past the time of child bearing. Second, after the son Isaac was given to him, God required Abraham offer the child as a sacrifice. At the moment of sacrifice, God stayed his hand. The text of Genesis 22:12 reveals the words God said to him at that time, "Do not lay your hand on the lad, or do anything to him; for now I know that you fear God, since you have not withheld your son, your only son, from Me." Truly Abraham stands as a wonderful example of total commitment in service to God.
God certainly blessed Abraham. Genesis 13 reveals that he was "very rich in livestock, in silver, and in gold" (2). In fact, his possessions were so great that he had to separate from his nephew Lot because the land could not sustain the herds and servants of the two men. However, the promises that God gave to Abraham in Genesis 12 were not realized during his lifetime. As with so many other patriarchs of which we read in the Old Testament, Abraham, "did not receive the promise, God having provided something better for us, that they should not be made perfect apart from us" (Hebrews 11:39-40). As is always the case, a careful study of Abraham's life shows that the most important and valuable considerations are spiritual and eternal. Not temporal and temporary!
Just as God's promises to Abraham were fulfilled, we can trust that He will keep the promises He makes to those who belong to Christ. Jesus said, "In My Father's house are many mansions; if it were not so, I would have told you. I go to prepare a place for you. And if I go and prepare a place for you, I will come again and receive you to Myself; that where I am, there you may be also" (John 14:2-3). Because He promised it, we know it to be true.
So, what should our response be to that promise? Paul states it clearly, "For the grace of God that brings salvation has appeared to all men, teaching us that, denying ungodliness and worldly lusts, we should live soberly, righteously, and godly in the present age, looking for the blessed hope and glorious appearing of our great God and Savior Jesus Christ, who gave Himself for us, that He might redeem us from every lawless deed and purify for Himself His own special people, zealous for good works" (Titus 2:11-14). Our response to the promises of the Lord must be loyal obedience to His will. He demands a sober, righteous and disciplined life. Those who diligently walk the walk of faith will receive a crown of life.
That doesn't mean that our lives here on earth will be lived in ease. Just as Abraham suffered because of his decision to follow the Lord, we may as well. We may suffer privation, the loss of relationships, even persecution at the hands of ungodly men! "Yes, and all who desire to live godly in Christ Jesus will suffer persecution" (2 Timothy 3:12). But, as we embrace the testing of our faith, like Abraham, we look to the eternal, heavenly reward.
Since the Bible clearly teaches an eternal reward for the faithful, we should diligently strive to live a righteous life. This means we should strive to avoid any trap the devil supplies. We should not become too comfortable on this earth, as the "love of the world" can make us an enemy of God (cf. 1 John 2:15; James 4:4). Instead, we should immerse ourselves in the things of God. Study His word, and meditate on it daily. Be diligent to pray, with thanksgiving. Assemble with saints for worship and fellowship. Be hospitable and benevolent, expressing love for our brethren, strangers, and even our enemies. Keep ourselves unspotted from sinful pursuits and pleasures. These are the things that will lead the Lord to say to us in that final day, "Well done, good and faithful servant; you were faithful over a few things, I will make you ruler over many things. Enter into the joy of your lord." (Matthew 5:21).
The life of Abraham demonstrates God's faithfulness in keeping His promises to us. Knowing of our established hope for an eternal reward allows us to maintain our faith despite the challenges of our lives. If we look with the eyes of faith to eternity, we will maintain true joy here on earth.