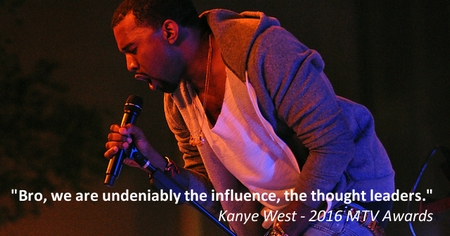 It is a bit disconcerting how far our world has strayed from the paths of righteousness. The wise man once wrote, "Righteousness exalts a nation, but sin is a reproach to any people" (Proverbs 14:34). These words are true wisdom, and the sinfulness of our society certainly is a reproach to our nation.
It is hard for the Christian to understand how the world has reached the state it is presently in. We are truly living in a time similar to that which existed during Isaiah's tenure on earth, "Woe to those who call evil good, and good evil; who put darkness for light, and light for darkness; who put bitter for sweet, and sweet for bitter! Woe to those who are wise in their own eyes, and prudent in their own sight!" (Isaiah 5:20-21). How did we get here? Consider the following anecdote.
Friday morning I was walking on a treadmill in front of a bunch of televisions at the gym. I situated myself in front of FOX News and CNN, but the next TV over was a replay of the MTV awards on that station. While I was exercising, Kanye West, a well known rapper, came on stage, and talked for about 6 minutes. I read the captions on the screen, and was struck by how little I understood. It's hard for a 54 year old white man to keep up with the current vernacular. West is known for being outrageous, but what struck me is the adoration shown him during his short speech. Near the end of his talk, the said the following:
"Bro. Bro! Tonight, we here to have fun. I'm standing in front of my idol, Puff Daddy. I'm standing in front of my wife, Kim Kardashian West. I'm standing in front of the future: Chance the Rapper, 2 Chainz, Jaden Smith. Bro, we are undeniably the influence, the thought leaders. (emphasis mine, SC). I'm gonna play y'all a piece of my art, and I just hope y'all have a good time. Play that."
Now, West is an arrogant person. On other occasions he has said, "I will go down as the voice of this generation, of this decade, I will be the loudest voice," and "I am so credible and so influential and so relevant that I will change things." He has even said that he is 50% more influential than the apostle Paul.
The problem is, his statement that in our time and culture that he and his are "the influence, the thought leaders" is not wrong! We are living in the time of trash TV, of Twitter, and Rap music. America, for a while now, has been enthralled and influenced by celebrity. Young people are bombarded with messages devoid of any vestige of righteousness. Our nation has rejected the ethics and morals upon which our country was founded, and embraced a culture of sexual promiscuity, profanity and selfishness. In effect, we have become a nation of libertines.
The Psalmist wrote to an earlier generation: "Depart from evil, and do good; and dwell forevermore. For the Lord loves justice, and does not forsake His saints; they are preserved forever, but the descendants of the wicked shall be cut off" (Psalm 37:27-28).
In the midst of such ungodliness, Christians can and must shine as "the light of the world. A city that is set on a hill cannot be hidden" (Matthew 5:14). We are strangers on this earth, and our appeals to righteousness will be rejected by many — perhaps by most. However, we retain the promise of Jehovah, "the Lord loves justice, and does not forsake His saints; they are preserved forever"!