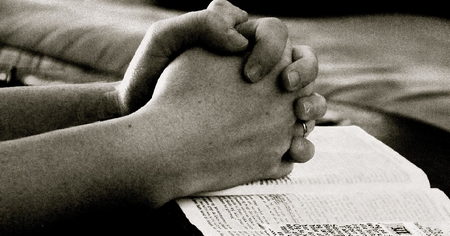 People generally recognize the positive impact of prayer. What is not always understood is why prayer is such a positive thing. Our national leaders during tragic times call for and express thanks for prayers offered. Many of those same leaders do not believe in God, or have no faith that God intercedes in men's affairs. For many, prayer is simply a way of saying, "I'm thinking about you." It is an expression of sympathy, and is appreciated for that reason alone. Caregivers may go so far as to suggest that prayers offered can have a placebo effect; a bit like chicken soup, it can't hurt.
The Christian knows that prayer is much more. Prayer is the believer's means of obtaining God's providential assistance. Requests are made and granted. An example of this is seen in Peter's imprisonment in Acts 12. We are told while in prison that "but constant prayer was offered to God for him by the church" (5). We are also told of Peter's eventual release in response to those prayers. "Now behold, an angel of the Lord stood by him, and a light shone in the prison; and he struck Peter on the side and raised him up, saying, 'Arise quickly!' And his chains fell off his hands" (7). Regarding the experience, Peter said, "Now I know for certain that the Lord has sent His angel, and has delivered me from the hand of Herod and from all the expectation of the Jewish people"(11).
James, in his epistle, wrote of the importance and effectiveness of prayer. In James 5, he noted that prayer is appropriate for:
When one is suffering (13).

When one is sick (14-15).

When one is penitent in acknowledging sin (15).
James also emphasized that such prayers are effective. "Confess your trespasses to one another, and pray for one another, that you may be healed. The effective, fervent prayer of a righteous man avails much" (16). When a righteous man prays for divine healing, such healing is possible.
A caveat — James stated that it is the effective prayer that is answered. At least one aspect of a prayer's effectiveness is answered in the question, "Is it God's will?" As an example, prayer to God does not always lead to healing because it is not God's intent that man should live forever. "…it is appointed for men to die once, but after this the judgment" (Hebrews 9:27).
When a penitent man prays for forgiveness, God has promised he will always receive it. "If we confess our sins, He is faithful and just to forgive us our sins and to cleanse us from all unrighteousness" (1 John 1:9).
Prayer is appropriate when a person is suffering because such an intimate conversation with God brings relief. When Israel cried out with a penitent heart in the midst of God's chastisement, He was swayed by their words. "…He regarded their affliction, when He heard their cry; and for their sake He remembered His covenant, and relented according to the multitude of His mercies" (Psalm 106:44-45).
Prayer to God often brings healing to the sick. Hezekiah was on his death bed, and in his misery turned to God for healing. Jehovah answered, "Thus says the Lord, the God of David your father: 'I have heard your prayer, I have seen your tears; surely I will heal you'" (2 Kings 20:5). Hezekiah recovered, and remained king for another 15 years.
Prayer is the means by which forgiveness is granted to the penitent child of God. John wrote, "My little children, these things I write to you, so that you may not sin. And if anyone sins, we have an Advocate with the Father, Jesus Christ the righteous" (1 John 2:1). When Simon sinned, Peter admonished him, "Repent therefore of this your wickedness, and pray God if perhaps the thought of your heart may be forgiven you" (Acts 8:22).
Sometimes, however, prayer does not work. Such failures must not be attributed to a lack of consideration by God, nor any impotence on His part. Instead, the petition made did not suit His purposes, or more likely there was fault in the petitioner. In James 5, Elijah (a righteous man) had his prayers answered by God. In Isaiah 59, however, Jehovah refused to answer prayers. Why? "Behold, the Lord's hand is not shortened, that it cannot save; nor His ear heavy, that it cannot hear. But your iniquities have separated you from your God; and your sins have hidden His face from you, so that He will not hear" (1-2). It is a presumptive man who expects an answer from the God to whom he refuses to submit.
Answered prayer, by its nature is anecdotal. While the skeptics will deny its power, the believer trusts in the promises of His God. After all He is the God who promised to send His Son as our Savior. He kept His promise. He is the God who promised eternal life, and showed His ability to keep that promise by raising Jesus from the dead. He promised to hear and answer the prayers of the faithful. Christians everyday and everywhere long for His attention, and rejoice in the blessings He provides.
"I spread out my hands to You; my soul longs for You like a thirsty land. Answer me speedily, O Lord; my spirit fails! Do not hide Your face from me, lest I be like those who go down into the pit" (Psalm 143:6-7).