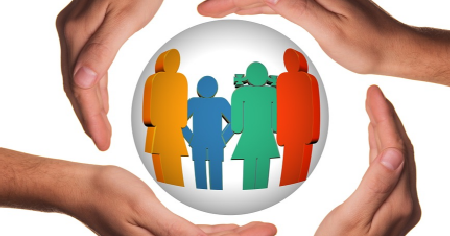 King David was not a perfect man. Some time after taking the throne of Israel as God's king, he sinned grievously against Him. Sins of adultery and murder are not trivial, and yet it is acknowledged that David was a man after God's "own heart, who will do all My will" (cf. Acts 13:22). The second book of Samuel notes of David's reign, "So David reigned over all Israel; and David administered judgment and justice to all his people" (8:15).
Despite the documented failings of David, he can rightly be described as a righteous man. As such, he enjoyed God's favor and protection, even as he was compassed about by his enemies. We are familiar with examples of the providential care shown Him by Jehovah.
1 Samuel 17 reveals David's defeat of the Philistine giant, Goliath. While that day many saw only a young shepherd boy with a sling, David saw God with him in the battle. He said to Goliath, "This day the Lord will deliver you into my hand, and I will strike you and take your head from you" (46).

After David's military successes, King Saul became jealous of him. The hate in his heart provoked him to try to kill David. But, God again protected his anointed, warning David to escape Saul's wrath. (cf. 1 Samuel 23:10-15).

David was well aware of the favor bestowed upon him by the Lord. Jehovah said to him, "And I have been with you wherever you have gone, and have cut off all your enemies from before you, and have made you a great name, like the name of the great men who are on the earth" (2 Samuel 7:9). And, he constantly acknowledged God's help. In fact, many of the Psalms found within that book contain such acknowledgment and praise of Jehovah. In 2 Samuel 22:2-3, David said, "The Lord is my rock and my fortress and my deliverer; the God of my strength, in whom I will trust; my shield and the horn of my salvation, my stronghold and my refuge…"
Of course, the child of God today can depend upon the protection of God, just as David did! Our battle against the devil and his minions is a daunting one, but our victory is sure with the Almighty on our side! Paul declared that it is, "a righteous thing with God to repay with tribulation those who trouble you, and to give you who are troubled rest with us when the Lord Jesus is revealed from heaven with His mighty angels" (2 Thessalonians 1:6-7).
This protection God affords allows us the victory, regardless of the foe. David killed Goliath, though men of greater strength (and lesser faith), "…fled from him and were dreadfully afraid" (1 Samuel 17:24). We too can gain courage as we realize, "If God is for us, who can be against us?" (Romans 8:31). Paul affirmed, "For I am persuaded that neither death nor life, nor angels nor principalities nor powers, nor things present nor things to come, nor height nor depth, nor any other created thing, shall be able to separate us from the love of God which is in Christ Jesus our Lord" (Romans 8:38-39).
And, very much as God warned David of Saul's approach, He directs us for our protection. Consider the Lord's description of the wise and foolish builders in Matthew 7:24-27. The wise man built his house on the rock to withstand the storm, while the foolish man built upon the sand to his own ruin and destruction. Of course, the Lord was using the illustration to drive home the necessity of heeding His words. "Therefore whoever hears these sayings of Mine, and does them, I will liken him to a wise man… But everyone who hears these sayings of Mine, and does not do them, will be like a foolish man…" (24,26). We are equipped by God's directions for us.
The key to receiving God's protection is to acknowledge our own dependence upon Him. By submitting to His will, we court His favor. "But He gives more grace. Therefore He says: 'God resists the proud, but gives grace to the humble.'" (James 4:6). Pride is the enemy of redemption and favor. "Humble yourselves in the sight of the Lord, and He will lift you up" (James 4:10).
We must also acknowledge the help He brings! The Psalmist declared his gratefulness: "Enter into His gates with thanksgiving, and into His courts with praise. Be thankful to Him, and bless His name. For the Lord is good; His mercy is everlasting, and His truth endures to all generations" (Psalm 100:4-5). Paul described the mind that we as God's children should have, "Rejoice always, pray without ceasing, in everything give thanks; for this is the will of God in Christ Jesus for you" (1 Thessalonians 5:16-18).
The recipe for obtaining God's providential care for us is very simple. First, we submit humbly to Him. Second, we entreat Him for that protection, with the confidence that He will deliver what we need. In all things, we give thanks to Him. "Who remembered us in our lowly state, for His mercy endures forever; and rescued us from our enemies, for His mercy endures forever; Who gives food to all flesh, for His mercy endures forever. Oh, give thanks to the God of heaven! For His mercy endures forever" (Psalm 136:23-26).