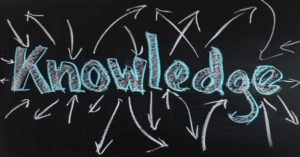 It is right to emphasize the importance of gaining knowledge of God's word.  The Psalmist expressed the proper attitude toward seeking such knowledge when he wrote, "Blessed is the man who walks not in the counsel of the ungodly, nor stands in the path of sinners, nor sits in the seat of the scornful; but his delight is in the law of the Lord, and in His law he meditates day and night" (Psalm 1:1-2).  However, it must be recognized that gaining knowledge is the means to an end in its impact on the Christian's faith.  It is not an end in itself.  Our standing with God is not dependent upon of our knowledge of truth per se, but upon our acceptance of Jesus Christ as Lord.
One might object that knowledge of Christ is necessary for that acceptance, and that is entirely true.  Jesus affirmed this very thing when he said to a group of Jews who expressed their faith in Him, "If you abide in My word, you are My disciples indeed. And you shall know the truth, and the truth shall make you free" (John 8:31-32).  We are to be disciples of Christ.  To be His disciples, we must know and adopt His teachings.  However, it is important to remember that the newborn babe in Christ is as accepted of God as the most mature Christian.  Immediately upon being washed in the blood of the Lamb, we receive the forgiveness of our sins, and can claim the right to an eternal inheritance.  The Ethiopian Eunuch who "went on his way rejoicing" (cf. Acts 8:39) immediately following his baptism, had equal claim to the heavenly Father as the aged Paul, who had "fought the good fight" (cf. 2 Timothy 4:7) as a learned and mature apostle of the Lord.
Consider a man today who desires to preach.  He is encouraged first to get a rounded education.  He is told of the importance of good grammar, and the fact that men will be more apt to listen if he is erudite and well read.  He goes to college, where he is most likely inundated with humanistic philosophies and theories.  If he majors in religious studies, he will be introduced to modernistic views regarding the Bible.  He will hear professors express doubts with regard to the inerrancy of scripture, the historicity of the Old and New Testament narratives, and the validity of the Bible accounts of miracles and prophecy.  As he progresses in his "studies", he is told of the importance of gaining an advanced degree.  To do so he will have absolutely no choice other than travel to the very center of the enemy's camp, and sit at the feet of modernists who will attack his faith daily.  No wonder that he comes out the other side with doubts and equivocations.
Now consider the apostle Paul.  He sat at the feet of Gamaliel (cf. Acts 22:3), and enjoyed every benefit of Jewish education.  He was sophisticated and zealous, receiving the approval of the high priest in his service to the Jewish nation.  And yet this urbane, educated Jew, wrote, "But what things were gain to me, these I have counted loss for Christ. Yet indeed I also count all things loss for the excellence of the knowledge of Christ Jesus my Lord, for whom I have suffered the loss of all things, and count them as rubbish, that I may gain Christ and be found in Him, not having my own righteousness, which is from the law, but that which is through faith in Christ, the righteousness which is from God by faith; that I may know Him and the power of His resurrection, and the fellowship of His sufferings, being conformed to His death, if, by any means, I may attain to the resurrection from the dead" (Philippians 3:7-11).  Paul was not concerned with being well rounded.  His desire was to know nothing "except Jesus Christ and Him crucified."
There are Christians today who struggle with every new "discovery" and claim that is made by the enemies of God. When secular archeologists opine that the Old Testament does not supply a viable history of the ancient world, the faith of many falter.  When astronomers reveal the probability that there is water on Mars, doubt enters the heart of some.  When physicists smash atoms together, and possibly uncover evidence of the so-called "God particle", some begin to question the historicity of Genesis 1.  Too many worry that science may one day uncover some bit of evidence that will finally and ultimately defeat our belief in a Divine Being.  Such doubts are sad.  The attempts made to compromise Bible teaching in order to accommodate current "realities" is misguided.
The apostles had no such qualms.  Paul trumpeted the risen Lord with the assurance of one who had seen Him (cf. 1 Corinthians 15:8).  He was dismissive of proconsul Festus' doubts, saying concerning King Agrippa, "the king, before whom I also speak freely, knows these things; for I am convinced that none of these things escapes his attention, since this thing was not done in a corner" (Acts 26:26).  Peter concurred, and wrote in his second epistle, "For we did not follow cunningly devised fables when we made known to you the power and coming of our Lord Jesus Christ, but were eyewitnesses of His majesty. For He received from God the Father honor and glory when such a voice came to Him from the Excellent Glory: 'This is My beloved Son, in whom I am well pleased.' And we heard this voice which came from heaven when we were with Him on the holy mountain" (1:16-18).
As Christians, we know that Jesus is the Son of God.  Further, we know that the Bible is His inspired word.  It is not necessary that everyone of us be able to address the "higher criticism" that denies the Bible claims of inspiration.  We don't have to become experts at archeology, that we might interpret a shard of clay within the construct of the Bible narrative.  We don't have to be able to explain the fallacies of Carbon dating, and discuss intelligently the biological concept of "irreducible complexity."  And we certainly don't have any legitimate reason to doubt our faith in God when the infidel expresses his contempt.
When we study, we should do so to gain knowledge of God's word.  We may not understand it completely, but that is no reason to doubt.  If at any point we encounter difficulties reconciling one passage with another – we can attribute it to our own inadequacies, rather than any discrepancy in the text.  Just as Peter and Paul, we know that Jesus is God's Son, and we know that the Bible is God's word.  The gaining of knowledge will serve to strengthen our faith and remove insecurity.  This is the healthy and right attitude to take as we seek awareness of God and His will.
Don't study to gain knowledge for knowledge's sake.  "Study to shew thyself approved unto God…" (2 Timothy 2:15, KJV).