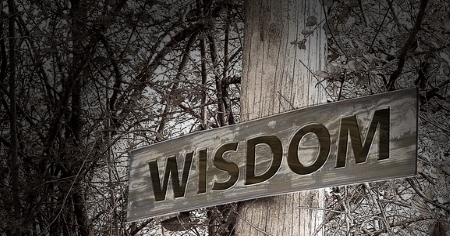 "Does not wisdom cry out, And understanding lift up her voice? 2 She takes her stand on the top of the high hill, beside the way, where the paths meet. 3 She cries out by the gates, at the entry of the city, at the entrance of the doors: 4 'To you, O men, I call, and my voice is to the sons of men.'" (Proverbs 8:1-4).
There is so much foolishness in the world today as infidels and skeptics are heard on every corner.  The cacophony of voices, each touting their own philosophy, makes it difficult to know what is true and right.  However, true wisdom's call is present among the voices, and she can be heard, if we apply the correct filter.  That filter is the word of God.
"But we preach Christ crucified, to the Jews a stumbling block and to the Greeks foolishness, 24 but to those who are called, both Jews and Greeks, Christ the power of God and the wisdom of God. 25 Because the foolishness of God is wiser than men, and the weakness of God is stronger than men" (1 Corinthians 1:23-25).
Our text states that wisdom proclaims things that are prudent, excellent, right, true and righteous.  There is nothing crooked or perverse in them.  And, "They are all plain to him who understands, and right to those who find knowledge" (5-9).  Look for it in the right place (God's word), and true wisdom can be found!