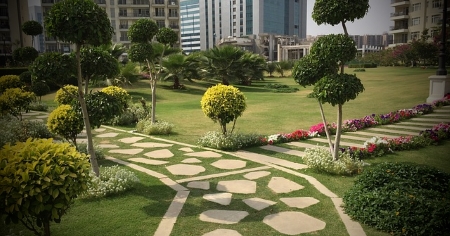 The apostle Paul's life had a striking bifurcation. The event which marked the change is narrated by Luke in Acts 9. On that occasion he left Jerusalem to go to Damascus. On the road he met the Lord.
Prior to that meeting Paul, whose Hebrew name was Saul, was a devoted Pharisee. He described himself in the following way. "If anyone else thinks he may have confidence in the flesh, I more so: circumcised the eighth day, of the stock of Israel, of the tribe of Benjamin, a Hebrew of the Hebrews; concerning the law, a Pharisee; concerning zeal, persecuting the church; concerning the righteousness which is in the law, blameless" (Philippians 3:4-6).
Note especially the phrase, "concerning zeal, persecuting the church." Paul was aware of the disciples of Christ. He had witnessed the stoning of Stephen (Acts 7:58) and consented to his death. His zeal compelled him to do his part to eradicate what he considered a destructive sect, following a false messiah. Luke records, "As for Saul, he made havoc of the church, entering every house, and dragging off men and women, committing them to prison" (Acts 8:3).
Ironically, his efforts to destroy the Christian faith served as an impetus for its spread. Because of Paul's zealous efforts to persecute Christians, we are told, "Therefore those who were scattered went everywhere preaching the word" (Acts 8:4). Philip, for example, went to the city of Samaria and preached Christ. "And the multitudes with one accord heeded the things spoken by Philip, hearing and seeing the miracles which he did" (Acts 8:6).
Then Paul met the Lord. When confronted with the fact of Jesus' resurrection, he became obedient to the gospel, and immediately began to preach the faith he once sought to destroy. God gave him a special work, to "preach Him among the Gentiles" (Galatians 1:15), and he spent the rest of his life zealously doing that work.
His early efforts to preach the gospel brought him a striking reputation among God's people. Several years after his conversion he went to Judea. He wrote of that trip, "And I was unknown by face to the churches of Judea which were in Christ. But they were hearing only, 'He who formerly persecuted us now preaches the faith which he once tried to destroy.' And they glorified God in me" (Galatians 1:22-24).
His efforts also led to opposition and personal persecution. The single most zealous persecutor of Christians became one of the most zealously persecuted of God's people. A lengthy list of his tribulations is given by the apostle in his second letter to the Corinthians (11:22-33). They included hunger, whippings, beatings, stonings, the perils of dangerous travel, efforts to destroy his ministry by false brethren, and imprisonment.
Paul wrote a letter to the Philippians during one such imprisonment — a two year incarceration in Rome. Despite his chains, he was remarkably upbeat. He considered his suffering as a Christian and an apostle to be a badge of honor. He told the Philippians, "For to you it has been granted on behalf of Christ, not only to believe in Him, but also to suffer for His sake, having the same conflict which you saw in me and now hear is in me" (Philippians 1:29-30). Such an attitude recalls the words of our Lord, "Blessed are you when they revile and persecute you, and say all kinds of evil against you falsely for My sake. Rejoice and be exceedingly glad, for great is your reward in heaven, for so they persecuted the prophets who were before you" (Matthew 5:11-12).
Another reason he rejoiced is that his circumstances had given the Philippians an opportunity to help him. Through Epaphroditus they had sent him aid, and his letter to them was written in part to thank them for their support. "I thank my God upon every remembrance of you, always in every prayer of mine making request for you all with joy, for your fellowship in the gospel from the first day until now" (Philippians 1:3-5).
Our ministrations help our brethren when they are suffering. As a part of our fellowship as Christians, we are to "Rejoice with those who rejoice, and weep with those who weep" (Romans 12:15). Whenever we are there to hold a hand, share a meal, open our home, send a card, give a hug, we are doing the Lord's work. It is the practice of pure religion, visiting the "orphans and widows in their trouble" (James 1:27).
When we personally suffer for Christ, we are comforted by the realization of our hope. "Blessed is the man who endures temptation; for when he has been approved, he will receive the crown of life which the Lord has promised to those who love Him" (James 1:12). And like Paul, we rejoice in the help others supply. "Indeed I have all and abound. I am full, having received from Epaphroditus the things sent from you, a sweet-smelling aroma, an acceptable sacrifice, well pleasing to God" (Philippians 4:18).
Consider that all who have named the name of Christ have the same bifurcation in our life. Where once we spent our lifetime doing the "will of the Gentiles" (1 Peter 4:3), now we are to no longer live for our own lusts, but "for the will of God" (1 Peter 4:2). Such a change will bring to us persecution (cf. 2 Timothy 3:12), but it also brings great joy. Remember, for Paul and all other children of God, "to live is Christ, and to die is gain" (Philippians 1:21).