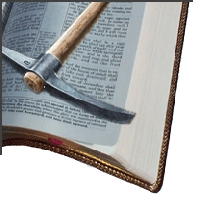 Jude describes the false teachers he warns about as individuals who are severely lacking in character. This is characteristic of the self-willed. First, they grumble and complain. This shows a lack of respect for authority. They are governed by their own lusts. This indicates selfishness and a love of sin. They use flattery to gain advantage, which indicates a deceitful spirit.
These evil individuals had been predicted by the Lord's apostles. One example of this is found in Acts 20:28-30, in the warning Paul gave to the Ephesian elders at Miletus.
The overriding characteristic of these men was their sensuality. It seems that both Jude and Peter (2 Peter 2) refer to men that are either similar to, or perhaps are the originators of what would become known as Gnosticism. Regardless, the pursuit of carnal passion is always troublesome and divisive, and must be warned against with regularity.