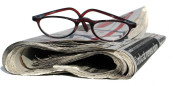 (This article originally appeared as a paid ad in (April 2012) in the newspapers published by Suburban Newspapers, Inc. The papers cover five small communities in the Forth Worth area).
In Ecclesiastes 12:13, a very wise man wrote "Let us hear the conclusion of the whole matter: Fear God and keep His commandments, for this is man's all." Such a simple truth, but one that is unfortunately seldom heeded.
Why do you go to church? It seems like for a lot of people, worship is entertainment; and a church's purpose is to facilitate self-actualization. And that seems to be a bit backwards.
Worship should be (and if it is true worship, it is) an offering to God. The purpose of worship is to please God, not to please ourselves. In order for it to please Him, our worship must be in accord with His will. "God is Spirit, and those who worship Him must worship in spirit and truth" (John 4:24).
The purpose of the church is to do the Lord's work in the world. It is a religious institution, dedicated to spiritual work. Members share the gospel with the lost, build one another up through worship and fellowship, and engage in benevolent activities. While entertainment and socializing seem to be the central priority of the church experience in our day and time, that is not what God intended for His people. Paul said that the church of the living God is "the pillar and ground of the truth" (1 Timothy 3:15).
Our view is not a typical way of looking at worship and service to God. Are you serious about your service to Him? Come visit the West Side church of Christ!
.