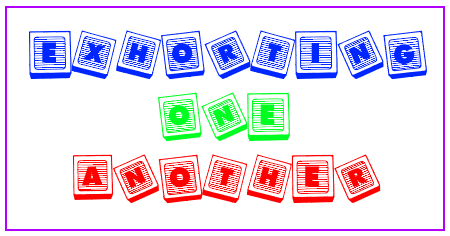 Paul took seriously God's call for him to preach the gospel of Christ, saying, "Moreover it is required in stewards that one be found faithful" (1 Corinthians 4:2).  While that passage specifically references Paul's stewardship as Christ's apostle, the principle regarding stewardship is valid, not matter the responsibility given.
One responsibility we all have is to edify (cf. Ephesians 4:16).  Every part must do its share in the work of edification. It is only in this way that the body of Christ can grow in the way God intends.
Consider this truth in light of the Holy Spirit's call to assemble.  "And let us consider one another in order to stir up love and good works, 25 not forsaking the assembling of ourselves together, as is the manner of some, but exhorting one another, and so much the more as you see the Day approaching" (Hebrews 10:24-25).
While it is personally beneficial to attend worship services consistently, that is not the Hebrew writer's point. Rather, he is referring to the stewardship of edification. We have a responsibility to encourage and build up our brethren! God has supplied the assembly to help us to accomplish this task. To forsake the "assembling of ourselves together" is to be unfaithful in that stewardship.
Let's say that you are a part of a congregation that has 100 members.  When you come to assemble, you do so with the primary purpose of edifying the other 99.  The wonderful part of God's plan is that while you do so, you have 99 brothers and sisters in Christ whose primary purpose is to edify you!
Click below to…