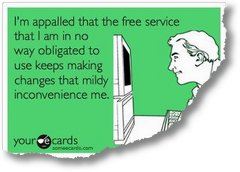 The Facebook website is ubiquitous. It was recently reported that 750,000,000 people worldwide are active participants on the website. The number is mind boggling.
Late Tuesday evening a change was made to the format and functionality of the site. While there are some obvious improvements, change is always a bit disconcerting, and many have bitterly complained about the alterations. A few have maintained a good humor about it, though, and I came across this particular quote about the revisions:
I am appalled that the free service that I am in no way obligated to use keeps making changes that mildly inconvenience me.
Continue reading » In the News: Criticism, Facebook and the Children of Israel