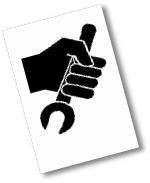 In Philippians 2:12-13, the Apostle Paul exhorted Christians to "…as you have always obeyed, not as in my presence only, but now much more in my absence, work out your own salvation with fear and trembling; for it is God who works in you both to will and to do for His good pleasure." The text clearly shows that man has an obligation regarding his own standing before God. Though we are saved by grace, this does not excuse us from honest and diligent effort to obey God. He saves us, but we are sadly mistaken if we believe that He will save us without any effort on our part. Those who are unrepentant sinners will only suffer loss.
In the New Testament, there are two instances where a disciple is referred to as one who is "full of faith." Stephen (Acts 6:5,8) and Barnabas (Acts 11:24) are the two men mentioned. The Holy Spirit chose two men who personify the apostle's admonition to "work out your own salvation with fear and trembling." Stephen suffered martyrdom because of his unflinching proclamation of the gospel of our Lord. In Acts 11, we are told that as a result of Barnabas' preaching "a great many people were added to the Lord" (vs. 24). Barnabas continued steadfastly in his work, and was a great help and companion to Paul in his ministry.
We have both examples and exhortations from scripture that explain what it means to work out our salvation. It is important for us to examine ourselves to ascertain whether it can be said of us that we are "full of faith." The apostle Paul told the Corinthians, "Examine yourselves as to whether you are in the faith. Test yourselves. Do you not know yourselves, that Jesus Christ is in you? — unless indeed you are disqualified" (2 Corinthians 13:5).
There are many who believe that because they are basically moral that their salvation is secure. This is not so. Morality and sincerity does not secure our standing before God. In fact, Saul of Tarsus was a moral man, living a life of religious conviction. It was that integrity, in fact, that led him to persecute Jesus, "I myself thought I must do many things contrary the name of Jesus of Nazareth" (Acts 26:9).
Others contend that believing something about Jesus is sufficient, even though the Jewish rulers in Jerusalem were shown to be insufficient despite their faith. They were unwilling to confess Him, "for they loved the praise of men more than the praise of God" (John 12:43).
More disturbing is the view some hold that baptism, membership in a local church, and worship attendance constitute living a life "full of faith." Again, while these things are important, and a part of that life of faith, they are not the sum total of working out your salvation.
The first thing to note is that the only means of ascertaining how to work out our salvation is to turn to the word of God. It is not within our ability to establish what constitutes obedience. "…Even so, no one knows the things of God except the Spirit of God" (1 Corinthians 2:11). To think otherwise is to assure condemnation, "There is a way that seems right to a man, but its end is the way of death" (Proverbs 14:12).
Second, it must be pointed out that simply reading God's word is insufficient. This is not theoretical. It is practical. The word of God must be heeded. It must be obeyed. As James wrote, "But he who looks into the perfect law of liberty and continues in it, and is not a forgetful hearer but a doer of the work, this one will be blessed in what he does" (James 1:25). With this in mind, there are three things to note, that will help us to ascertain whether we are living lives "full of faith."
First, one is a faithful Christian because he has been forgiven of his past sins. No one who has not obeyed the gospel of Christ can be considered in good standing with God. Many will attempt to exonerate those who have not been baptized, or who teach or believe "another gospel" (cf. Galatians 1:6-9), but they are lost. "He who believes and is baptized will be saved; but he who does not believe will be condemned" (Mark 16:16).
Second, one is a faithful Christian if he lives faithfully in the present. This life, in every respect, must be in accord with God's will. "For the grace of God that brings salvation has appeared to all men, teaching us that, denying ungodliness and worldly lusts, we should live soberly, righteously, and godly in the present age" (Titus 2:11-12).
Third, one is a faithful Christian if he is sacrificial, and lives for the future. It is not what we have to gain on earth, but what is promised to us in eternity. As Paul wrote, "But what things were gain to me, these I have counted loss for Christ" (Philippians 3:7). Why did he do this? "For our citizenship is in heaven, from which we also eagerly wait for the Savior, the Lord Jesus Christ" (vs. 20).
It is clear that our destiny is dependent upon the life that we live in service to the Master. Remember Paul's warning, "For if you live according to the flesh you will die, but if by the Spirit you put to death the deeds of the body, you will live" (Romans 8:13).