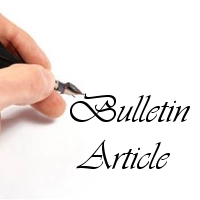 "And let us consider one another in order to stir up love and good works, not forsaking the assembling of ourselves together, as is the manner of some, but exhorting one another, and so much the more as you see the Day approaching" (Hebrews 10:24-25).
The preceding text is often used to emphasize the importance of being present at the worship assemblies. While such a use is legitimate, the 24th verse best expresses the writer's intent in the exhortation — "let us consider one another."
We are responsible for encouraging our brethren. While it may be that we ourselves are in need from time to time, we are always to be mindful of others. It is called selflessness, and our Lord is our best example in this. "Let nothing be done through selfish ambition or conceit, but in lowliness of mind let each esteem others better than himself. Let each of you look out not only for his own interests, but also for the interests of others. Let this mind be in you which was also in Christ Jesus, who, being in the form of God, did not consider it robbery to be equal with God, but made Himself of no reputation, taking the form of a bondservant, and coming in the likeness of men. And being found in appearance as a man, He humbled Himself and became obedient to the point of death, even the death of the cross" (Philippians 2:3-8).
A Christian whose concern is what he will get out of the worship, or whether it is worth it to him to attend a singing, or whether a week's worth of gospel meetings is preferable to secular entertainment, is thinking selfishly. His brethren need him and his encouraging presence, but he is sadly more concerned about his own interests.
When the text is read there is an immediate question that springs to the mind of the selfish, "What constitutes forsaking?" The question does not do justice to the call to exhort. In effect, one is asking, "How often must I exhort my brethren?" "How much encouragement of others does God expect of me?" "When can I stop worrying about others, and instead do what I want to do?"
The correct answer to that is another question. "How much do you love your brothers and sisters in Christ?" Our text refers to a "day" approaching. Most consider this to be the fall of Jerusalem in 70 A.D. In other words, a discouraging event in the lives of the Jewish Christians. In truth, discouraging events happen all of the time! Lost jobs, failing health, vexing temptations, faltering faith, the death of loved ones, anxious moments — seldom or never are at least some of these troubling circumstances present in an assembly of Christians. While these events may not compare in scope to the destruction of Jerusalem, they are significant trials to those who are beset by them.
So, there is never a time when your presence is not needed among the people of God. You are a member, you have a responsibility to the spiritual family to which you have pledged yourself. As such, you should be attending to exhortation.
Earlier in the book, the Hebrew writer penned the following words, "But exhort one another daily, while it is called 'Today,' lest any of you be hardened through the deceitfulness of sin" (3:13). Sin is an ever present danger, and we need to assist one another to avoid it and its hardening influence.
Best thing is, by looking out for others, you put yourself squarely in their sights! They will be exhorting you as well!