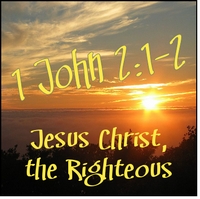 "My little children, these things I write to you, so that you may not sin. And if anyone sins, we have an Advocate with the Father, Jesus Christ the righteous. And He Himself is the propitiation for our sins, and not for ours only but also for the whole world" (1 John 2:1-2).
John's words reveal two different (though connected) blessings we have as believers in Jesus Christ. And, as we will later emphasize, these blessings are only available to those who are believers in Him (cf. John 14:6). Having said that, the terms used by John are challenging, and need to be explained to those who are not familiar with the language of scripture.
First, if a believer sins, he has an Advocate in Jesus. The Greek word can be understood as an intercessor. Thayer defines the term: "one who pleads another's cause before another." Thayer notes that the term is used: "of Christ in his exaltation at God's right hand, pleading with God the Father for the pardon of our sins." In this, Jesus fulfills a unique role in the reconciliation of God and man.
As the sinless Son of God, Jesus has unique qualifications. The Hebrew writer referred to Jesus as our High Priest. Concerning that role, he wrote, "For we do not have a High Priest who cannot sympathize with our weaknesses, but was in all points tempted as we are, yet without sin. Let us therefore come boldly to the throne of grace, that we may obtain mercy and find grace to help in time of need" (4:15-16). It is in His humble sacrifice in leaving heaven, in His life lived without sin, and in His sacrifice on the cross that He is seen to be uniquely qualified to fill the role of Advocate with God. He does not argue that we are not guilty, rather in admitting our sin He pleads with God that we might obtain forgiveness for the iniquities we commit.
Iniquities can't be forgiven unless God's justice is satisfied. This fact establishes the importance of the second blessing from Jesus, as related in the text. He is the propitiation for our sins. This word is less familiar to us. It is defined by Thayer as, "the means of appeasing." Man is guilty of sin, and must be appeased. The "wages of sin is death" (Romans 6:23), and it is a righteous thing with God to punish wickedness (cf. 2 Thessalonians 1:9).
Put simply, for God's righteousness and justice to be satisfied, someone has to die in consequence of sin. (In a side note, this shows how horrible sin is, in contrast to our own common efforts to minimize it). Further, the animal sacrifices that were a part of the Old Testament system could not fill that role. "For it is not possible that the blood of bulls and goats could take away sins" (Hebrews 10:4).
Again, Jesus is uniquely able to serve as our propitiation or means of appeasement. This is because of who He is, and because of the sinless life He led. He is the lamb without spot or blemish, Who died that God might be appeased, thus securing our hope of reconciliation with God.
One important point remains. Though Jesus died to appease God for all men, it does not follow that His sacrifice accomplishes that appeasement for all. As Albert Barnes states in his commentary on 1 John, "It [Christ's sacrifice] prepares the way for it [appeasement] on the part of God, but whether they for whom it is made will be disposed to accept it is another question." The way we accept the provision for mercy by God through Jesus is by obedient faith. "He that believes and is baptized will be saved; but he who does not believe will be condemned" (Mark 16:16).