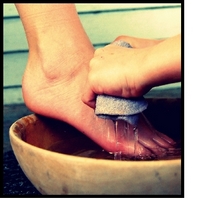 In Philippians 2:8 we read that as our Lord came to earth as a man, He humbled himself to the point of dying on the cross. We are so thankful for that humility, as it is the basis of our own reconciliation with God.
Interestingly, Paul wrote that because Jesus did what He did, the Father in heaven rewarded Him. "Therefore God also has highly exalted Him and given Him the name which is above every name, that at the name of Jesus every knee should bow, of those in heaven, and of those on earth, and of those under the earth, and that every tongue should confess that Jesus Christ is Lord, to the glory of God the Father" (2:9-11). This is in keeping with what scripture teaches us concerning God. "God resists the proud, but gives grace to the humble" (James 4:6).
It is a lesson we would do well to learn. It is a lesson Jesus taught His disciples by example (by washing their feet), and by His words, "If I then, your Lord and Teacher, have washed your feet, you also ought to wash one another's feet. For I have given you an example, that you should do as I have done to you. Most assuredly, I say to you, a servant is not greater than his master; nor is he who is sent greater than he who sent him. If you know these things, blessed are you if you do them" (John 13:14-17).
In the Kingdom of Christ, "he who is greatest among you, let him be as the younger, and he who governs as he who serves" (Luke 22:26). Greatness is found through service, and glory is found through humility before God and men.