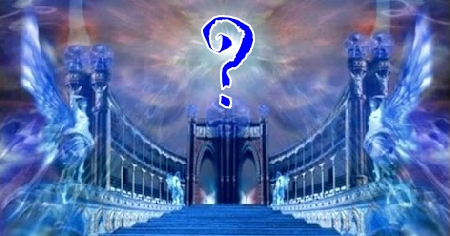 As is true with just about every other spiritual matter, people have their own unique concept of heaven. A little child asks their mother, "What is heaven like?" The response is, "Well sweetheart, to me heaven is…"
No wonder that atheists ridicule the Christian faith. To them the eternal concepts of heaven and hell seem to emanate from man's imagination. "I like to think of heaven as a place where the flowers are always blooming!" Well, you might want to think that, but hopeful thinking is a far cry from reality. And so, the skeptic lumps Christianity in with the myriad false religions that had their origin in the imaginations of men.
The Bible, however, gives a strong argument for heaven's existence, and a clear description of its nature. The hope of its existence lies not in the imaginations of men. It lies in the promises of the Almighty.
God sent His Son into the world to save sinners. Jesus accomplished this great work by dying on the cross, thus becoming the propitiation for our sins (1 John 4:10). The proof that Jesus is the one chosen by God to save the world (the Christ) is His resurrection from the dead (cf. Acts 2:29-33). This Chosen One, who proved who He was, promised His disciples, "In My Father's house are many mansions; if it were not so, I would have told you. I go to prepare a place for you. And if I go and prepare a place for you, I will come again and receive you to Myself; that where I am, there you may be also" (John 14:2-3).
If we accept the supplied evidence that Jesus was who He claimed to be (evidence that is substantial and persuasive to the open minded among us), then we must accept the reality of heaven, promised by Him. These things being so, the description given of that place in scripture is authoritative. Rather than imagining what it will be like, we can allow the Holy Spirit to reveal its majesty to us.
First, understand that heaven is a place of reward. It will be the eternal home of those who are faithful to Him. Paul wrote to the faithful in Colosse, giving thanks "because of the hope which is laid up for you in heaven" (Colossians 1:5). In contrast, Paul noted of "those who do not know God, and on those who do not obey the gospel of our Lord Jesus Christ," a far different end, "These shall be punished with everlasting destruction from the presence of the Lord and from the glory of His power" (2 Thessalonians 1:8-9).
The word heaven as used in scripture, actually can refer to far different things. It is used of the atmosphere (cf. Genesis 1:20). It also is a word used for outer space (Genesis 1:14). Finally, it is used to refer to the place where God abides. The Israelite was to pray to God at the year of tithing, "Look down from Your holy habitation, from heaven, and bless Your people Israel and the land which You have given us…" (Deuteronomy 26:15).
From this, we realize that heaven is a real place. It's characteristics and nature are a matter of objective fact, not feelings or imagination. And, those characteristics and nature are described for us in scripture.
We know, for example, that Heaven will be a "new" aspect of existence for God's people. Peter wrote of God's judgment in 2 Peter 3, stating that the existing heavens and elements will cease to be (cf. vs. 12). Christians are instructed to look for God's promise of a "new heavens and a new earth in which righteousness dwells" (vs. 13). A place of perfection and completeness, where we will be in the presence of God Himself. "Beloved, now we are children of God; and it has not yet been revealed what we shall be, but we know that when He is revealed, we shall be like Him, for we shall see Him as He is" (1 John 3:2).
Heaven will be a place of peace and rest. "Then I heard a voice from heaven saying to me, 'Write: "Blessed are the dead who die in the Lord from now on."' 'Yes,' says the Spirit, 'that they may rest from their labors, and their works follow them'" (Revelation 14:13). "There remains therefore a rest for the people of God" (Hebrews 4:9). But, it is also a place of worship and service. "And there shall be no more curse, but the throne of God and of the Lamb shall be in it, and His servants shall serve Him" (Revelation 22:3).
Heaven should be the ultimate goal of all who live upon the earth. This is so, not only because of the nature of the reward itself, but also because of the horrific nature of its counterpart. Remember, heaven is reserved solely for those who obey Jesus, "Though He was a Son, yet He learned obedience by the things which He suffered. And having been perfected, He became the author of eternal salvation to all who obey Him" (Hebrews 5:8-9).
With these things in mind, may we all heed the wise words of our Savior, "Do not lay up for yourselves treasures on earth, where moth and rust destroy and where thieves break in and steal; but lay up for yourselves treasures in heaven, where neither moth nor rust destroys and where thieves do not break in and steal. For where your treasure is, there your heart will be also" (Matthew 6:19-21).