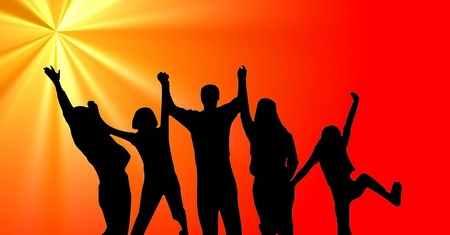 The wise man of Ecclesiastes had it right in despairing of a contemplated life without God's presence. "'Vanity of vanities,' says the Preacher; 'Vanity of vanities, all is vanity'" (Ecclesiastes 1:2). Life only has meaning if God is in the picture. Otherwise, it is without any lasting value or purpose. Men everywhere live out their short existence on earth without hope beyond the grave. Such an existence is truly vain. "One generation passes away, and another generation comes; but the earth abides forever" (1:4).
Many of the problems we have with sorrow and despair come from this flawed perspective on life. Above all other things, we must recognize our purpose on earth is to serve God. If we do, we can with that realization have a happy and productive life, and after, a sure hope of eternal bliss. As the wise man concluded in his contemplation of life, "Let us hear the conclusion of the whole matter: fear God and keep His commandments, for this is man's all. For God will bring every work into judgment, including every secret thing, whether good or evil" (12:13-14).
This truth is validated by the Lord Himself. Mark 12 records a conversation between Jesus and a scribe (lawyer) who asked, "Which is the first commandment of all?" (28). Jesus answered, "And you shall love the Lord you God with all your heart, with all your soul, with all your mind, and with all your strength" (30). It is this premise, that above all we are called to serve God, that is the foundation of every faithful Christian's walk.
This is why it is disturbing that so many who profess faith in God are in no way seeking to know His will or to obey it! If one accepts the premise that a life of value for him is a life lived in obedience to his Maker, why would he then minimize the importance of knowing God's will? Or spend so much effort casting aspersion upon the revelation of that will to man (the Bible)? And yet, that is precisely the practice of the majority of religious people in our society. Only a few have the audacity to claim that the Bible contains God's inspired will, and must be obeyed. For this they are branded as extreme, superstitious and ignorant.
In truth, God has revealed His will to man. As did the apostles, it is right for us to proclaim to the world, "We ought to obey God rather than men" (Acts 5:29). This obedience must be complete and voluntary. As we acknowledge the Lordship of God's Son, we willingly submit to Him in toto. "I have been crucified with Christ; it is no longer I who live, but Christ lives in me; and the life which I now live in the flesh I live by faith in the Son of God, who loved me and gave Himself for me" (Galatians 2:20).
In exchange, God promises favor and joy for us as we serve Him. "But let all those rejoice who put their trust in You; let them ever shout for joy, because You defend them; let those also who love Your name be joyful in You. For You, O Lord, will bless the righteous; with favor You will surround him as with a shield" (Psalm 5:11-12).
Some may misunderstand the nature of this promise, as it is in no way dependent upon the actual conditions of our existence on earth. In other words, Christians can be joyous despite the troubles we experience, rather than having our joy be dependent upon the present circumstances of our lives. This is because the favor of God is finally and ultimately realized in eternity. Because of this, even in times of distress or privation, service brings joy. Paul understood this truth, and wrote while in prison, "But I rejoiced in the Lord greatly that now at last your care for me has flourished again; though you surely did care, but you lacked opportunity. Not that I speak in regard to need, for I have learned in whatever state I am, to be content: I know how to be abased, and I know how to abound. Everywhere and in all things I have learned both to be full and to be hungry, both to abound and to suffer need. I can do all things through Christ who strengthens me" (Philippians 4:10-13).
When I am distracted by the difficulties of life, the favor of God allows me to refocus on my service to Him, and the hope that is the byproduct of that service. His favor motivates me to alter my life and habits so that I can fully realize my potential as His child. And, His favor provokes a dedication that is characterized by steadfastness. I do not falter in my service to the Master, because I know endurance brings reward. As the Lord told his servant John, "I am the Alpha and the Omega, the Beginning and the End. I will give of the fountain of the water of life freely to him who thirsts. He who overcomes shall inherit all things, and I will be his God and he shall be My son" (Revelation 21:6-7).
God has never promised an easy life to His people. Israel did not have an easy existence, and Christians today suffer as well. Not only do we have the rain which falls "on the just and on the unjust" alike (cf. Matthew 5:45); but also the injustices of an antagonistic world that are ours to bear, "Yes, and all who desire to live godly in Christ Jesus will suffer persecution" (2 Timothy 3:12).
Despite it all, we know that it is a righteous thing with God, "to give you who are troubled rest with us when the Lord Jesus is revealed from heaven with His mighty angels" (2 Thessalonians 1:7). With that assurance firmly in mind we press on with equanimity. And even beyond mere acceptance, we with Paul "rejoice, yes, and will rejoice" (Philippians 1:18)!