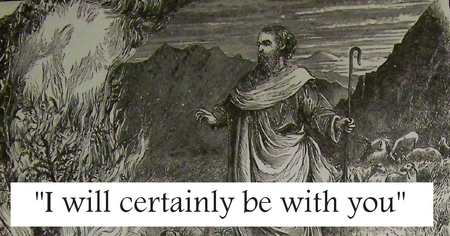 In Exodus 3 we read of God's conversation with Moses, from the midst of the burning bush. Moses was understandably hesitant to take on the task of leading the Israelites out of Egypt. He asked "Who am I that I should go to Pharaoh, and that I should bring the children of Israel out of Egypt?" (11). In response, God did not seek to stroke the ego of Moses. Such was not needed. It was enough for God to say, "I will certainly be with you" (12). It didn't matter who Moses was, with God's help he would be successful in his task.
The single most important lesson to take from Israel's exodus from Egypt is that God was with them. This was demonstrated during their initial escape, after being trapped up against the Red Sea. Through God's providence, they passed through on dry land. The Egyptian army, however, was utterly destroyed in the waters of the sea. "So the Lord saved Israel that day out of the hand of the Egyptians, and Israel saw the Egyptians dead on the seashore" (Exodus 14:30). In the same way, during the most difficult moments of our life, the God we love and obey can protect and save us. The prophet Isaiah does a wonderful job of describing this truth. "Strengthen the weak hands, and make firm the feeble knees. Say to those who are fearful-hearted, 'Be strong, do not fear! Behold, your God will come with vengeance, with the recompense of God; He will come and save you'" (Isaiah 35:3-4).
It is, of course, important to note the contextual limitation of these words. It is not accurate to state that the righteous will always be physically protected from harm, or will always be enriched materially through God's providence. In fact, the opposite is true. Lazarus, a godly man, nevertheless had a bereft and difficult existence on earth. In Paradise, Abraham said that Lazarus received, "evil things" while on earth, though after death he was "comforted" (cf. Luke 16:25). It is a "righteous thing with God" to settle accounts in eternity. God's children who are troubled will receive "rest with us when the Lord Jesus is revealed from heaven with His mighty angels." In contrast, the ungodly will be "punished with everlasting destruction from the presence of the Lord and from the glory of His power" (2 Thessalonians 1:6-10).
While it is true that "all who desire to live godly in Christ Jesus will suffer persecution" (2 Timothy 3:12), it is likewise true that "he who endures to the end will be saved" (Matthew 10:22).
When the Israelites were in the wilderness, (a dry and barren place), God supplied provisions for them. Manna (Exodus 16), and water that flowed from a rock (Exodus 17). Christians are certainly promised the provision of physical necessities as we serve God. "But seek first the kingdom of God and His righteousness, and all these things [in the context, food, water and clothing] shall be added to you" (Matthew 6:33). Jesus taught his disciples to pray, asking, "Give us this day our daily bread" (Matthew 6:11).
Again, though, the spiritual application is more important. Jesus contrasted the manna delivered from heaven with the sustenance He Himself would supply. "Your fathers ate the manna in the wilderness, and are dead. This is the bread which comes down from heaven, that one may eat of it and not die. I am the living bread which came down from heaven. If anyone eats of this bread, he will live forever; and the bread that I shall give is My flesh, which I shall give for the life of the world." (John 6:49-51).
The key to receiving such blessings from God is an obedient faith. While the Israelites were in the wilderness, they camped at Mt. Sinai. Moses ascended the mountain to receive God's commandments for Israel. It was at that time that God directed Moses to tell the people, "Now therefore, if you will indeed obey My voice and keep My covenant, then you shall be a special treasure to Me above all people; for all the earth is Mine" (Exodus 19:5). In response, the people promised, "All that the Lord has spoken we will do" (19:8).
The sad history of Israel shows the people did not keep that promise. In fact, it was her unfaithfulness to God that led to her rejection by God, her captivity, and the eventual dissolution of the nation to the point where only a small remnant remained.
A final time we note the important spiritual application to be made. Paul admonished the physical Jew in Antioch concerning his lack of faith in Jesus Christ. "Then Paul and Barnabas grew bold and said, 'It was necessary that the word of God should be spoken to you first; but since you reject it, and judge yourselves unworthy of everlasting life, behold, we turn to the Gentiles'" (Acts 13:46). Later, he wrote to the Gentiles in his Roman letter, "Do not be haughty, but fear. For if God did not spare the natural branches, He may not spare you either. Therefore consider the goodness and severity of God: on those who fell, severity; but toward you, goodness, if you continue in His goodness. Otherwise you also will be cut off" (Romans 11:20-22).
If we seek to serve God faithfully, we are assured His protection, providence and reward. But, as with Israel, such consideration is conditional! God is certainly merciful and gracious, but He is also just. Obedience ensures His favor.