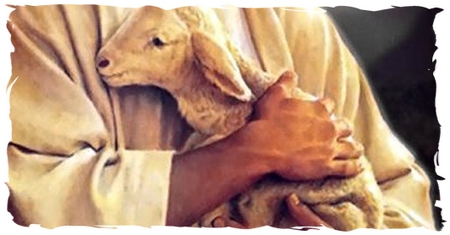 In the gospel of John, Jesus identified himself as the "good shepherd" (John 10:11). The work of the shepherd in New Testament times was challenging. He would train the sheep or goats to obey his commands, feed and water them, and protect them from harm. The young David is an good example, as he saved his sheep from both a lion and a bear (cf. 1 Samuel 17:34). Obviously, if the sheep belonged to the shepherd himself, the investment was a precious one. This explains Jesus' words, "I am the good shepherd. The good shepherd gives His life for the sheep" (11). In contrast, "The hireling flees [when he sees the wolf] because he is a hireling and does not care about the sheep" (13). Jesus used this imagery to describe His sin sacrifice, "As the Father knows Me, even so I know the Father; and I lay down My life for the sheep" (15).
The 23rd Psalm is a beautiful passage that uses this metaphor to describe the care and protection given to us (the sheep) by the Lord (the shepherd). "The Lord is my shepherd; I shall not want" (1).
As we noted, a shepherd supplied food and drink. In the text of Psalm 23, the psalmist, King David, revealed the Lord's provision for him, "I shall not want" (1). "He makes me to lie down in green pastures; He leads me beside the still waters" (2). "You prepare a table before me in the presence of my enemies" (5).
The Lord also provided direction through His revealed will. "He leads me in the paths of righteousness for His name's sake" (3). Just as the sheep obeys the shepherd's commands, David knew that the way of righteousness was found in the commandments of God.
This protection and direction was available to David always, even and especially when his path was a desperate one. The most encouraging aspect of this Psalm is the promise of protection in the midst of danger. "Yea, though I walk through the valley of the shadow of death, I will fear no evil; for You are with me; Your rod and Your staff, they comfort me" (4). David's faith in God was evident, and expressed in this song with beautiful words. "You anoint my head with oil; my cup runs over" (5). "Surely goodness and mercy shall follow me all the days of my life; and I will dwell in the house of the Lord forever" (6).
The same imagery can be used to describe what Jesus Christ does for His own. They are His sheep, He is their good Shepherd.
Jesus sustains us spiritually. He told a group that sought Him out so that He would give them physical bread, "Do not labor for the food which perishes, but for the food which endures to everlasting life, which the Son of Man will give you, because God the Father has set His seal on Him" (John 6:27). Later in that conversation He said of Himself, "I am the bread of life. He who comes to Me shall never hunger, and he who believes in Me shall never thirst" (6:35).
Jesus directs our paths to heaven. In fact, He is the path to heaven! He promised His disciples that He was going to prepare mansions for them, and would come again to get them. He said, "And where I go you know, and the way you know" (John 14:4). Notice the reaction of Thomas, and the Lord's rejoinder, "Thomas said to Him, 'Lord, we do not know where You are going, and how can we know the way?' Jesus said to him, 'I am the way, the truth, and the life. No one comes to the Father except through Me.'" (14:5-6). Of course, we must follow that way, believing in Him, and obeying His commands. "He who rejects Me, and does not receive My words, has that which judges him—the word that I have spoken will judge him in the last day. For I have not spoken on My own authority; but the Father who sent Me gave Me a command, what I should say and what I should speak. And I know that His command is everlasting life. Therefore, whatever I speak, just as the Father has told Me, so I speak" (John 12:48-50).
We are not guaranteed physical safety as we live for Jesus. "Yes, and all who desire to live godly in Christ Jesus will suffer persecution" (2 Timothy 3:12). But, we are promised that if we continue in His will through the trials and difficulties of life, those Scriptures are able to "make you wise for salvation through faith which is in Christ Jesus" (3:15). This wonderful protection is supplied because of God's love for His children, "Are not two sparrows sold for a copper coin? And not one of them falls to the ground apart from your Father's will. But the very hairs of your head are all numbered. Do not fear therefore; you are of more value than many sparrows" (Matthew 25:29-31).
Jesus is our shepherd. He supplies us with every need we might have. If we believe in Him, we will never want. We will have the "bread of life" (John 6:35) – we will have the "living water" (John 4:10). As Paul wrote, "And my God shall supply all your need according to His riches in glory by Christ Jesus" (Philippians 4:19).
Jesus is the good shepherd. He lays down His life for the sheep. He does this willingly (cf. John 10:18). It is because of this willingness to die for us that we have the remission of sins. It is because He has the power "to take it [His life] again" (ibid.), that we have the hope of life eternal. In the end, our victory is complete!