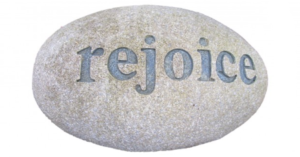 "And my soul shall be joyful in the Lord; it shall rejoice in His salvation" (Psalms 35:9).
The Psalmist rejoiced in the protection Jehovah afforded him from his enemies.  "All my bones shall say, 'Lord, who is like You, delivering the poor from him who is too strong for him, yes, the poor and the needy from him who plunders him?'" (vs. 10).  While this protection certainly shows both the strength and mercy of God, it pales when compared to the spiritual protection He offers to all who name His name.
"Yet in all these things we are more than conquerors through Him who loved us. 38 For I am persuaded that neither death nor life, nor angels nor principalities nor powers, nor things present nor things to come, 39 nor height nor depth, nor any other created thing, shall be able to separate us from the love of God which is in Christ Jesus our Lord" (Romans 8:37-39).
We are so blessed to have God on our side.  In this uncertain and ungodly time – where the faith of Christian is demeaned, and the degradation of morals has led to an epidemic of selfishness, anarchy and violence – we place our confidence in the Almighty.  "Do not fear those who kill the body but cannot kill the soul. But rather fear Him who is able to destroy both soul and body in hell" (Matthew 10:28).  Fear God and serve Him.  Rejoice in His salvation!