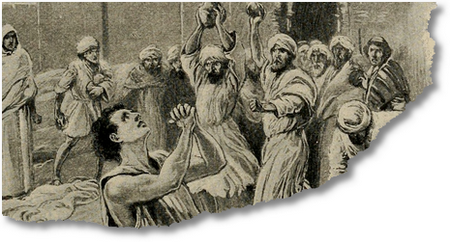 Persecution is the lot of all who name the name of Christ. Paul made that clear in 2 Timothy 3:12, "Yes, and all who desire to live godly in Christ Jesus will suffer persecution." Why would this be? It is because of Who we represent, Who we answer to. Jesus told His disciples, "If the world hates you, you know that it hated Me before it hated you. If you were of the world, the world would love its own. Yet because you are not of the world, but I chose you out of the world, therefore the world hates you. Remember the word that I said to you, 'A servant is not greater than his master.' If they persecuted Me, they will also persecute you" (John 15:18-20).
As Christians, we are required to declare the Lord before men, "Therefore whoever confesses Me before men, him I will also confess before My Father who is in heaven. But whoever denies Me before men, him I will also deny before My Father who is in heaven" (Matthew 10:32-33). However, that profession serves to anger some. Perhaps it is because, "there is no creature hidden from His sight, but all things are naked and open to the eyes of Him to whom we must give account" (Hebrews 4:13).
Stephen serves as an object lesson to us on the subject of persecution. The narrative is revealed in Acts 7. His bold proclamation of the truth of God led to his death by stoning. Stephen was accused of blasphemy, and they brought him to the Sanhedrin to be questioned by the high priest. The charges were false, of course, but there were many false witnesses raised up against him. Rather than deny the passages, at the high priest's question, "Are these things so?", he began to preach. He used the history of Israel to establish Jesus as the promised Messiah, and to convict them of their own rebellious spirit. His address led them to "cast him out of the city", and they stoned him to death. His faith cost him his life.
There are parallels between Stephen's persecution to the point of death, and the persecution each of us are destined to suffer for Christ. Here are some lessons for us to learn…
First, Stephen's address was not a personal attack, though it might seem to be so. The objection Stephen had to these unbelievers was the fact that they were disobedient to God. He referred to them as "Brethren and fathers", and pled with them to "listen" to the truth. If not for his love for his brethren, Stephen may have lived. But, he was compelled to share the gospel message, regardless of the personal cost. Though it cost him his life, consider his final words of compassion toward his persecutors, "Lord, do not charge them with this sin" (Acts 7:60).
Our attempts to share the message should not be a personal attack against any man. The gospel of Christ is not an implement to bludgeon men. It is a sharp sword capable of, "piercing even to the division of soul and spirit, and of joints and marrow, and is a discerner of the thoughts and intents of the heart" (Hebrews 4:12). Discernment is needed in the attempt, "And on some have compassion, making a distinction; but others save with fear, pulling them out of the fire, hating even the garment defiled by the flesh" (Jude 22-23). But, we must never forget that it was God's love that compelled him to send His Son to redeem us. It must be our love that compels us to share the gospel with others.
Second, as Stephen, when we preach that truth, we can expect to suffer personally. He spoke the truth boldly, convicting them of their sin. Note his words, "You stiff-necked and uncircumcised in heart and ears! You always resist the Holy Spirit; as your fathers did, so do you. Which of the prophets did your fathers not persecute? And they killed those who foretold the coming of the Just One, of whom you now have become the betrayers and murderers, who have received the law by the direction of angels and have not kept it" (Acts 7:51-53). In Thessalonica, Paul came face to face with that danger. Luke tells us, "But the Jews who were not persuaded, becoming envious, took some of the evil men from the marketplace, and gathering a mob, set all the city in an uproar and attacked the house of Jason, and sought to bring them out to the people" (Acts 17:5). Even though the extent of our suffering for Christ might not reach that of Stephen or Paul, those who are not persuaded will be angry.
Third, comfort is to be found as we trust in our Lord. This truth is beautifully illustrated in Stephen's last moments. "But he, being full of the Holy Spirit, gazed into heaven and saw the glory of God, and Jesus standing at the right hand of God, and said, "Look! I see the heavens opened and the Son of Man standing at the right hand of God!" (Acts 7:55-56).
We too receive strength through our relationship with the Lord. This fellowship can bring us comfort and strength to endure. Paul wrote, "I can do all things through Christ, who strengthens me" (Philippians 4:13). We need to screw up our courage "to the sticking place" and do what is needed in our service to the Master. "Preach the word! Be ready in season and out of season. Convince, rebuke, exhort, with all longsuffering and teaching" (2 Timothy 4:2).
How wonderful it is to suffer for the cause of Christ! There is no greater blessing under heaven. "Blessed are you when they revile and persecute you, and say all kinds of evil against you falsely for My sake. Rejoice and be exceedingly glad, for great is your reward in heaven, for so they persecuted the prophets who were before you" (Matthew 5:11-12).