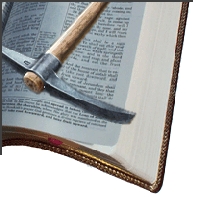 In the previous verse, the apostle John affirmed that Jesus, the Word, came to earth and lived among us. He now states that John the Baptist testified that Jesus is indeed the Son of God (cf. vs. 34).
John the Baptist was the forerunner of Jesus, prophesied about in Isaiah 40:3, "The voice of one crying in the wilderness, 'Make straight the way of the Lord'" (vs. 23). His ministry heralded the coming of the Christ.
The apostle now affirms that we have received the unmerited favor of God in the sending of that Christ, Jesus (16). Just as Moses was the means through which God gave Israel His law, Jesus is the means through which God grants salvation by Grace (17). It is through Jesus that God is manifested to man. Without Jesus, we can not know God. With Him, all things are made clear, including His plans for our redemption.