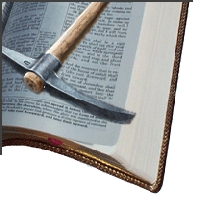 In John's opening words, he affirmed himself to be an eyewitness of the resurrected Christ, and that His resurrection is the basis of his readers' standing with God. As Paul wrote, the gospel is "the power of God to salvation" (Romans 1:16).
In verse 4 he states, "And these things we write to you that your joy may be full." Actually, manuscript authorities differ on whether the word is "our" or "your."
If "our", the apostle would have reference either to himself (as he used the editorial "we" to begin the epistle (cf. vs. 1), or to the common joy both he and the readers would experience through the reality of their fellowship in Christ. If "your", the meaning would be the same, but directed to his readers alone.
Regardless, our contemplation of the redemptive acts of Jesus brings great joy to our lives as Christians. Because we believe in Him, we have fellowship together, and the hope of heaven. There is no greater source of joy available to us!